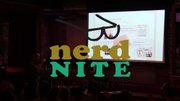 "It's like the Discovery Channel… with Beer!" This unofficial motto appears on the welcome page of the Nerd Nite organization's website. But for a generation that often seeks enlightenment in the form of TED Talks and podcasts, that only scrapes the surface.
What began as a simple talk about birds in a Boston bar has quickly blossomed into a popular lecture series held monthly in more than 50 cities around the globe - one that strives for an "inebriated, salacious, yet deeply academic vibe," as the Nerd Nite – San Francisco calls it.
From its East Coast origins, Nerd Nite soon made its way to the Midwest, by way of Austin, Tex. It was there that Lawrence Nerd Nite "bosses" Dave Trimbach and Travis Weller began attending the monthly event. When the two relocated to the University of Kansas, they brought the idea with them, and the first Nerd Nite in Lawrence was held at Pachamama's Star Bar on Nov. 8, 2011.
Nerd Nite found its audience early on, as the first several installments tested the limits of the Star Bar's venue capacity. Rather than continue to turn attendees away, the organizers - whose ranks grew to include "co-bosses" Becky Harpstrite and Emily Fekete - moved the event into the larger space provided by Pachamama's Alton Ballroom.
But whereas most Nerd Nite events can be equated with a full-room audience, the upcoming 19th installment, dubbed "Summer Shorts," will boast a hefty bill of 15 speakers, each delivering short two-minute presentations limited to one slide of information. Many are Nerd Nite alumni who have given full 20-minute presentations at past events.
Co-bosses Travis Weller and Becky Harpstrite have their reasons for the change in format. "It's summer! We're excited to try something a little less formal and be a bit more freewheeling," says Weller.
According to Harpstrite, "Part of the whole reason we wanted to do it was to get a lot of variety in one night... switch it up a bit and have a little fun with it."
"Plus, we're encouraging people to wear shorts," Weller adds.
Topics for the "Summer Shorts" edition range "from authors to elephants, librarians to languages, and famous generals to general knowledge," including presentations on specific subjects as diverse as time travel theory, Alexander the Great, the basics of bricket, Buddhism in Russian Siberia, Babylon 5, Faulkner and "foam-fighting." And the list goes on.
"Some that you think might be pretty straight-forward, I know are not going to be just a talk," Harpstrite said. "You think you're going to be hearing about Thomas Edison, but then there's a whole song and dance routine involving an accordion and a song written by Stephen Malkmus."
"It's a good example of how we're letting people do what they want to up there," Harpstrite continues, "as long as all of the presentations are based in truth and fact."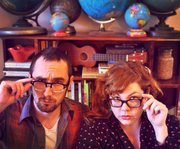 Harpstrite points out, "It's not about similar interests because the topics can be so broad. You never know what's going to be up there, and it strikes a spark in people, to get them talking about things they might not have ever thought about talking about before."
Nerd Nite presenters run the gamut of professional nerd-dom; from post-graduate baristas and bartenders who mix and muddle in downtown establishments, to bonafide academics, librarians, and university employees. But all have been struck by the strange urge to translate their interests into bulleted PowerPoint slides and share that information which stimulates their grey-matter with a room full of strangers.
"People crave this kind of information," says Harpstrite. "They want to learn new things, but you know, they want to have fun doing it."
"Nerd Nite offers up the perfect platform for that. If you're an intellectual person who's curious about life, it's only natural that when you meet other intellectual, curious people, you're going to form these sort of friendships."
On the major difference between Nerd Nite and bigger conferences like T.E.D. Talks: "We don't have fancy props on stage, or millions of dollars to produce videos and stuff like that, but thankfully we have good people in our community and a lot of support." Harpstrite adds, "Really what keeps me excited is that every single month it gets bigger."
Nerd Nite 19: Summer Shorts takes place at 8 p.m. tonight, July 10 at Pachamama's, 800 New Hampshire St. Doors open at 7 p.m. and admission is free, though space is always limited. For more information visit the event's Facebook page.
More like this story on Lawrence.com