Anniversary beer
Johnny's had one 60th anniversary party in May, complete with commemorative T-shirts. It's planning another one (maybe even two) later this year.
One, planned for September or October, will be a release party for a special anniversary beer, a collaboration with Free State Brewing Co. Details are expected to be announced later.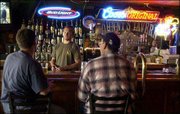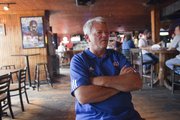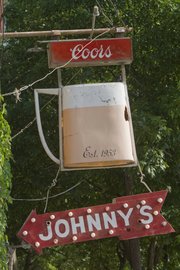 Ask for favorite stories from Johnny's Tavern and more than a few people chuckle, "Ummm, do they have to be printable?"
In its 60 years, the self-proclaimed "longest runnin' tap in Lawrence" has seen some shenanigans.
With few exceptions (more on one involving the University of Oklahoma football team later), the stories aren't bad, says Rick Renfro, owner of Johnny's in North Lawrence. They're just the results of a lot of people having a good time, usually with a little help from their friend beer.
Longtime customer Greg L. Simms, who has a few stories of his own, says the place hasn't changed much, and he likes it that way.
"It's still a little rough around the edges," Simms says, "and I think people feel comfortable because of that. You can really let your hair down there."
In recent decades Johnny's has expanded to nine locations: two in Lawrence, three in Overland Park, one in Shawnee, one in Olathe, one in Prairie Village and one on the Missouri side, a prime corner across the street from the Sprint Center in Kansas City's Power and Light District.
The original Johnny's, located at 401 N. Second St., isn't the biggest moneymaker these days, says Renfro, who also owns Johnny's in west Lawrence and has part ownership in the others. Crowds — especially college crowds — ebb and flow, but the old Johnny's has maintained a reputation as a workingman's bar and grill, go-to KU game-watching spot and hangout for locals who've put down roots.
There are about 15 to 20 customers who come in every day, Renfro says. He knows many more regulars by name, as evidenced by shouting across the bar during lunch this week, "Hi, Ruth!" "Hi, Tom!" and "Thanks, guys, see ya!"
"The best thing about this place is the people I've gotten to meet," Renfro says.
"It's not like an Applebee's, where they made up a name and came up with a story."
The horse in the bar
No, Johnny's has its own story.
First, the guy in the logo with the bushy beard and old-timey hat? He's a real guy, Johnny's original proprietor and namesake John Wilson. He opened Johnny's Tavern in 1953 and put up the beer sign that still hangs outside.
Renfro, while playing rugby for KU and bartending at the Eagles Lodge, bought the bar in 1978.
He'd barely taken over when the city plunked down big barriers in front of the entrance. Construction on the new bridge was about to begin, and it was going to take a couple of years. Luckily for Renfro's bottom line, those construction workers drank a lot of beer at lunch, he says. The ones that came in early in the morning even left money on the table when they found Renfro dozing on the pool table.
One of Renfro's most memorable (printable) memories was the horse.
"Old Slick" (Renfro doesn't remember his full name) lived by the Flamingo Club in North Lawrence and had a handful of horses. Not long after opening at 7 a.m. one Saturday, Renfro heard clops. There was Slick, bending sideways and removing his hat to clear the low ceiling but nevertheless riding a horse straight into his bar.
Slick didn't stay to drink that day, though, Renfro says. He was just out getting the horse some exercise.
The honor badges
Simms remembers hitting Johnny's as a college student when it used to open first thing in the morning, which at the time would earn you a bumper sticker to prove you were there that early.
"It was like a badge of honor," he says.
An even better Johnny's badge of honor? Simms later met his wife there, when she was tending bar.
A newly minted "Bud man," Simms was headed to the 1982 grand opening of the Up and Under Club on the second floor, now used for special events. After "a few Budweisers were consumed" he asked her out and she turned him down, Simms says. But persistence paid off, and the couple celebrated their 29th wedding anniversary this year.
Kim Schulz, of Linwood, went to Johnny's more often and was probably "less than responsible" before her children were born, she says. Later she and her husband took the family there for meals and, during one, their 3-year-old son suddenly bolted from the table.
"We live in the country and possibly let this fact influence some of our male child-rearing practices," she says. "I jumped up and ran after him, only to find him on the sidewalk right in front of the open front door, peeing a masterful arch into the grass."
Schulz had no choice but to let him finish, then swiftly scooped him up.
"I turned around and the entire bar was laughing," she says.
Schulz says she still eats at Johnny's at least a few times a month.
"There's only so many times a week you can eat the best onion rings in town," she says.
For Renfro, who met his own wife, Nancy, at Johnny's, good times there outnumber the bad 99 to 1, at least.
One of the bad happened in the early '80s when the OU football team came in after (one of the many times) they beat the Jayhawks at home. Fights were breaking out everywhere and Renfro, who described the scene like a brawl from a John Wayne movie, had to shut the place down early.
The floor
Renfro has expanded the bar northward from its original long, narrow space. He's gone through multiple floors and estimates the current one has about two sandings left in it.
While he tries to keep the place clean and well-maintained, Renfro doesn't expect a major, expensive overhaul — much less one that would make it too, you know, shiny.
"The atmosphere is comfortable," he says. "You pretty much know what you're getting when you come here."