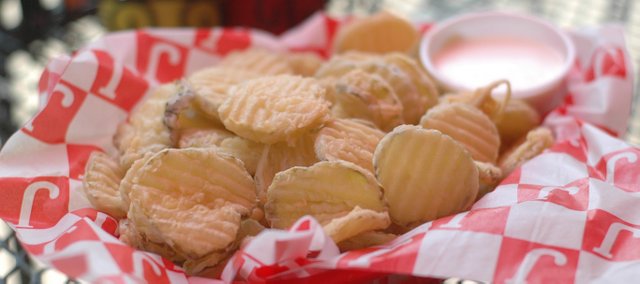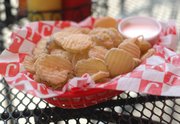 Jefferson's menu is home to many, many fried things: oysters, shrimp, cheese sticks, mushrooms, corn nuggets and even fried bites of macaroni and cheese. But perhaps the restaurant's most famous house specialty (in the fried category, at least) are its fried pickles.
Juicy, crinkle-cut dill pickle slices are encased in warm, crispy golden batter and piled — like any respectable fried bar food — in a paper-lined plastic basket. Lawrence may be the northernmost Jefferson's location, but these toasty, tangy little discs are a reminder that the place started in the south.
Where to get it: Jefferson's Restaurant, 743 Massachusetts St.
What you'll pay: $5.99 for a whole order, $3.49 for a half.
Try it with: Ranch or blue cheese dressing. Your choice comes on the side.
Also on the menu: Oysters (raw on the half-shell or baked in various forms), chicken wings with a dozen sauces to choose from, burgers, chicken sandwiches, salads and house-made peanut butter pie.
— Off The Beaten Plate highlights some of the more exotic, oddly named or inventively concocted (for better or worse) dishes from local menus. Know of an offbeat menu item we should check out? Email food and features reporter Sara Shepherd at sshepherd@ljworld.com. Tweet her at Twitter.com/KCSSara.