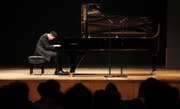 International Institute for Young Musicians Gala Winners Concert
When: 7:30 p.m. to 9 p.m. Friday
Where: Swarthout Recital Hall in Murphy Hall, 1530 Naismith Drive.
Cost: Admission is $10 and free for children under 8.
On Monday, 17-year-old Sarah Rasmussen, of Platte City, Mo., placed second in the final round of the International Institute for Young Musicians piano competition, an annual event that leads into a three-week camp on the Kansas University campus.
She will join Evan Lin, the first-place finisher from Honolulu, Luke Ratcliffe, the third-place finisher from Sterling, Va., and the other three finalists in the Winners Concert at 7:30 p.m. Friday in the Swarthout Recital Hall in Murphy Hall.
"If you love music, you're going to be amazed at how mature and beautiful the playing of these young people is," said Scott McBride Smith, KU professor and president of the organization. "And, if you only read bad things about today's young people and are worried about the future, you can watch this and see that that's not all true — something else is going on."
Rasmussen wasn't dragged to piano lessons as a child. Instead, she enjoyed practicing with her grandmother starting at age 4, and has made her hobby into a potential future career.
In her free time, Rasmussen, a home-schooled senior, listens to some of the greats — Martha Argerich, Grigory Sokolov and Vladimir Horowitz, to name but a few — and practices three to four hours every day in order to gain entry into a major music conservatory.
At 7, Rasmussen started seeing a professional teacher located about 20 minutes from her hometown of Platte City. After nine years of study with him, she won a Missouri-wide competition and began learning from Steven Spooner, a concert pianist and Kansas University professor.
From there, her motivation grew.
"The communication that happens when you play a piece and people can feel the emotion that's portrayed is so wonderful," Rasmussen said. "Being able to do that as just one person with one instrument, I think that's just really powerful. I've always loved it."
Smith started the piano competition and camp 21 years ago to fulfill the need for opportunities for piano students during the summer months. Ninety-four students ages 9 to 19 are attending IIYM this year, along with five judges and seven guest faculty members.
Aspiring concert pianists attending the camp come from all over, including Australia, China and Vietnam. They will participate in music classes and off-campus performances during the program.
"These are young people who are working extremely hard wherever they're home is, and are making a big sacrifice," he said. "They're amazing."
Now that the final round of competition is over and Rasmussen is out of "competition-mode," she said she would like to get to know the other students, something her teacher and family friends encouraged her to do.
"They said I could make lifelong friends," Rasmussen said. "People who play the piano like me."