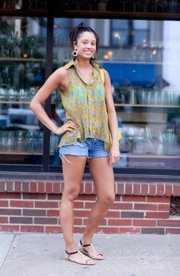 Name: Ashley Stewart
Age: 28
Relationship status: I have a boyfriend.
Hometown: Lawrence
Time in Lawrence: Currently visiting. I live in New York now.
Occupation: Office manager
Dream job: I'm working towards going to medical school.
What were you doing when scouted? Shopping at Kieu's and watching some talented girls sing on the corner.
Describe your style: I get my style influences from people on the streets of New York. I also like the color black a lot but I think you should add different colors as well.
Fashion trends you love: I love hippie styles, dreads, tattoos, peace signs and maxi skirts.
Fashion trends you hate: I don't like trends that are too conservative unless you're dressing for business or work.
Fashion influences: I see a lot of crazy-good styles when I ride the New York City subway.
What would you like to see more of in Lawrence? I love Lawrence. I wouldn't change anything except I think they need another public pool for the kids because they get crammed.
Less of? Nothing comes to mind.
Tattoos or piercings: Yes, my ears are pierced.
Whom do people say you look like? Tamia and my older sister!
What type of music do you unwind to? Hip-hop always and Mariah Carey.
Tell us a secret: I don't keep secrets.
More like this story on Lawrence.com