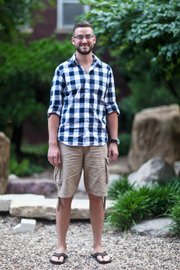 Name: Christopher White


Age: 28
Relationship status: In a relationship
Hometown: Topeka
Time in Lawrence: I'm just visiting.
Occupation: Nurse
Dream job: I'm content with being a nurse.
What were you doing when scouted? Just walking around Mass. Street
Describe your style: I really just dress how I feel. Some say trendy but I don't have a set style.
Fashion trends you love: I like bright colors, but I really don't follow any styles. If I see what I like, I just buy it and wear it.
Fashion trends you hate: Mostly '80s stuff that I wouldn't wear or like to see on girls.
Fashion influences: It's mostly whatever I see when shopping. I'll just buy it, but sometimes I get help from my friend, Eugene.
What would you like to see more of in Lawrence? I've only been to Lawrence a couple of times so nothing comes to mind.
Less of? Nothing. To each their own, I'm not judging anyone.
Tattoos or piercings: I have my daughter's name with her birth flower on my rib cage.
Whom do people say you look like? No one has really told me that I look like anyone.
What type of music do you unwind to: Country music
Tell us a secret… I used to be a chef.
More like this story on Lawrence.com