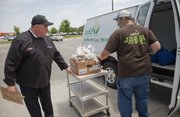 Inevitably, there are going to be days when a steakhouse ends up with more baked potatoes than its customers order.
Instead of dumping those surplus spuds in the trash, LongHorn Steakhouse takes a few extra steps to get the potatoes — and other fresh but unused food — into the hands of people who desperately need it.
Since 2008, the Lawrence LongHorn has gathered unserved meat and vegetables weekly for donation. Officials from Just Food, Douglas County's food bank, said that with the exception of local bakeries that donate bread, LongHorn is the only restaurant here that does so — though they hope more will consider food-rescue efforts.
"It's like taking something that, in essence, is waste and turning it into something productive for the community," Kurt Brewer, managing partner at the Lawrence LongHorn, said. "It's a win-win."
LongHorn, 3050 Iowa St., usually donates about 50 pounds of food such as vegetables, meat and soups a week, Brewer said, though this week's donation, on the heels of a slower-than-expected Fourth of July, was about 90 pounds.
Brewer said LongHorn's corporate "shelf-life" policy is more restrictive than codes require, meaning that if fresh food isn't sold after a certain number of days, LongHorn doesn't serve it even though it's still safe. That food, which could come from over-ordering or having items left over after a promotion ends, is frozen and picked up each Tuesday by a Just Food volunteer.
This week's haul included potatoes, sweet potatoes and rib loin trimmings. LongHorn cuts its own prime rib steaks, and the "knuckles" that are shaved off the loin before slicing are cooked, bagged, labeled and frozen for Just Food.
"It's potatoes and beef today, which sounds like a good soup to me," Brewer said.
Just Food collected a total of 1.4 million pounds of food last year and feeds 8,000 to 10,000 needy people a month, director Jeremy Farmer said.
While LongHorn's donations aren't a huge percentage of Just Food's total poundage, they include high-quality food of the type that doesn't come in through food drives.
"The hardest thing for people to get into their diets is protein, because it's expensive for food pantries," Farmer said. "What (LongHorn) is donating is something that's very needed for us."
A 'hassle' for restaurants
Saving and preparing food to donate can be labor-intensive and space-consuming for restaurants.
"A lot of folks don't want to go through the hassle," Farmer said. Restaurateurs, essentially, must pay employees to do tasks to preserve the extra food that have "nothing to do with serving customers that are walking through the door."
LongHorn's participation is part of the Darden Harvest program, a nationwide effort by its parent company, Orlando, Fla.-basedDarden Restaurants Inc.. Darden, which includes Red Lobster and Olive Garden among its brands, started the program 10 years ago.
Brewer said once a restaurant has committed to helping the community, having a system in place helps streamline the effort. The restaurant has special bags and designated areas of its cooler and freezer for Just Food donations, plus specific rules to ensure food safety is maintained. The Just Food volunteer signs an inventory sheet each week, which LongHorn faxes to its corporate office to verify the items donated.
More donations in KC
The practice of restaurants donating surplus to food pantries is more common in the Kansas City metropolitan area.
In the fiscal year ending in June, Harvesters - The Community Food Network collected more than 763,000 pounds of prepared food from restaurants, schools and institutional cafeterias, according to Harvesters spokeswoman Ellen Feldhausen. She said that translates to about 636,000 meals, most served at Harvesters' community kitchens instead of given away at food pantries.
Harvesters' Food Rescue participants in the Kansas City area include the Blue Valley School District, the New Theatre Restaurant, other Darden restaurants and Harrah's and Ameristar casinos, Feldhausen said. She said the Prairie Band Casino is the only restaurant donating food to Harvesters in Topeka.
"This is very high quality food, and if it weren't being used by us it would probably go into a landfill," Feldhausen said. "The Food Rescue program allows us to take this good food and provide it to people who are in danger of not having a meal at all."