Photo Gallery
Banned Books Week Trading Card Project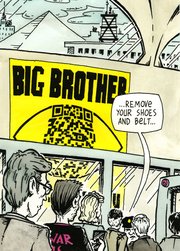 The Lawrence Public Library is celebrating national Banned Books Week 2012 in a new way. The library invited artists to depict their favorite banned book and chose seven designs to feature on trading cards, to be given out to the public throughout the week.
Last year, the Lawrence Public Library's first banned books trading card project proved so popular that the library got orders for cards from across the country.
In partnership with the Lawrence Arts Center, the library is repeating the project this year and now seeking new artists.
Anyone living in Douglas County is eligible to submit designs. Submissions should be original artwork with a brief artist's statement, including the name of the banned book inspiring it and one or two paragraphs about how the art reflects the book or author.
During Banned Books Week, celebrated Sept. 22-28, all submissions will be on display at the library and the Arts Center. Copies of the seven winning cards will be released and given away one day at a time that week.
Find submission instructions and a link to a list of frequently challenged books online at www.lawrence.lib.ks.us. Aug. 23 is the deadline.
The library described Banned Books Week as celebrating "the freedom to read and the importance of open access to information by highlighting the attempted or actual banning of books in the United States."