Theater enthusiasts and performers of all stripes are undoubtedly familiar with Edinburgh, Scotland's annual Fringe Festival, which includes premieres of comedy acts, plays and dramatic performances from all over the world.
What they might not know is that for the past decade Kansas City has hosted its own Fringe Festival, bringing together live theater, dance, performance art, visual art, spoken word, puppetry, storytelling, film and fashion into one 10-day summer extravaganza.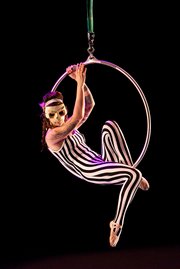 Although tiny compared with the European version, the Kansas City Fringe Festival presents an impressive variety of entertainment starting Thursday and running through July 28.
One good way to get a sense of what performances are worth seeing is to attend the opening night at the Spencer Theater on the UMKC campus (4949 Cherry St.), during which audiences can see three-minute previews of each play.
A Fringe Fest button ($5), available at the venues, allows you to buy tickets to any individual show, and the shows themselves range between $5 and $15. Most performances run a handful of times throughout the 10 days, so if you miss something one night, you can check it out another time instead.
One of the most exciting festival offerings is Quixotic School of Performing Arts "Tormenta Quixotica," described as "a 90-minute mystical tale of separation told through Aerial Silks, trapeze, lyra, contortion, and dance." Tormenta Quixotica features 28 performers and runs almost every day at the Kansas City Ballet's Bolender Center (500 West Pershing, next to Union Station).
Another interesting offering is "An Adult Evening of Shel Silverstein" at the Fishtank (1715 Wyandotte), which compiles 10 short plays you aren't likely to see in his children's books.
Concerts
Have you noticed how virtually every car, cellphone or credit card commercial these days starts out with upbeat, happy ukulele strumming, melody bell intervals or heartwarming piano chords? It's gotten to the point where I hardly want to hear anything in a major key anymore. A couple of excellent rock shows this Tuesday will help blast those saccharine corporate sounds out of the air.
At the Czar Bar, one of my favorite bands in Kansas City, Lazy, opens for recent critical favorites Speedy Ortiz in an 18-and-over show. The show starts at 7:30 and costs $5 (Lazy will also be playing tonight at the Replay, and on Aug. 8 and 9 at Love Garden Sounds).
Also on Tuesday is the venerable Austin, Texas, hard-rock group And You Will Know Us By The Trail of Dead at the Record Bar. The group's 2012 album "Lost Songs" is their strongest offering in a decade, with plenty of melodic-yet-punishing ballads for the contemplative headbanger. Tickets are $15.
"Prairie Home Companion" fans can enjoy a Friday night at Starlight Theatre with Garrison Keillor as part of his Radio Romance Tour. The two hours of improv, comedy, skits and music starts at 7 p.m. with tickets ranging from $20 to $95.
Food
If you're looking for good bistro food, refreshing and a friendly patio, check out The Jacobson in the Crossroads Arts District at 2050 Central. The friendly, modern restaurant has become a popular spot since it opened last year just behind Lulu's Thai Noodle Shop.
Lulu's serves up a delicious variety of curry dishes and noodle offerings that will appeal to fans of Zen Zero.
Either restaurant is well worth a lunch visit, happy hour stop or leisure dinner during a night out on the town.
— Lucas Wetzel is a KU graduate and Kansas City native who has worked as a writer, editor and language trainer in the U.S. and Europe.