Kasi Brown was working as an EMT on a set for a commercial in Los Angeles recently when a dangerous stunt went horribly wrong.
"This guy who was doing his first ramp jump had to jump over a tractor in downtown L.A.," she says. "He went up on the ramp 35 feet in the air, and his motorcycle chipped sideways and landed on top of him, narrowly missing the camera crew that was right below."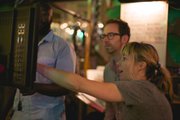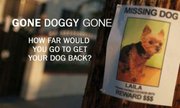 Brown not only had to treat the man and prepare him for his trip to the hospital but also manage the chaos that ensued. When an on-set accident happens, everyone from the stunt coordinator to the producer to the first assistant director wants to get involved — all with their own motives.
"I had a PA once stick a fork in a paper shredder, which jumped back and went through the webbing in his hand. A set painter cut his thumb off," Brown says. "And sometimes it's just Band-Aids and Advil. When it's Band-Aids and Advil, I can write my screenplay."
Luckily for Brown, a Kansas University theater and film graduate, her on-set experience managing chaos in Los Angeles, where she's lived since 1999, has uniquely prepared her for her biggest challenge: Making a feature film.
"Gone Doggy Gone" — which she is co-writing, co-directing and co-starring with creative partner Brandon Walter — has just completed principal photography and is now going through the lengthy process of cataloging shots and preparing them for editing.
The goal is to have the indie feature — a comedy about a kidnapped dog and its owners, a couple who treat it like a baby — ready for submission for January's Sundance Film Festival and the rest of the 2014 festival circuit.
From EMT to filmmaker
Downtime on the set may have given Brown some extra hours to touch up her script, but it also allowed her to visit other departments during filming. By talking to different crews and seeing firsthand how everything is put together on a film set, she prepared herself for the unpredictability of shooting "Gone Doggy Gone," which started right away during casting.
Originally, the movie was to be populated with members of their own sketch comedy troupe Mother Approved, whom Brown and Walter had in mind for certain parts while writing the film.
Things changed dramatically, however, once the fundraising campaign on IndieGoGo.com was completed and casting had begun in earnest.
"We ended up casting just us from the [IndieGoGo] video," Walter says. "One actor didn't know if he wanted to act anymore, another actor moved away, and another actor just didn't see eye to eye with us anymore about the project."
"It wasn't us who weren't interested anymore — it was their life circumstances that led them in all different directions," Brown says.
Instead, the pair combed the deep pool of unknown actors in L.A. and became extremely impressed by the actors who ended up in the film. When Shaina Vorspan walked into the room, they knew right away from her "hello" they had found the right person to play Jill, despite the 200 or so others they looked at.
Brown says that Jeff Sloniker, who plays a detective named Dan, is "the next John Belushi," and Dan's father is played by Richard Riehle — a true "that guy" character actor perhaps best known for his role as longtime Initech employee and "people person" Tom Smykowsi in "Office Space."
Kansas ties
There's plenty of homegrown talent working on "Gone Doggy Gone" as well.
Actor Cameron DeVictor attended Lawrence High School with Brown, while she knows actress Jenny Nichols Kurpil from her time at KU. One of the film's producers is Adriane Zaudke from Wichita, and Marina Proctor from Kansas City (who worked on 2011 best picture nominee "Winter's Bone") served as head makeup artist.
The relationships Brown has built as an actress (she's appeared on TV's "ER" and "Monk") and as an EMT also helped her make connections that were imperative in making a film for less money.
She and Walter (who co-starred in Jim Carrey's "The Yes Man") were able to get special deals on production equipment and locations, as well as finding investors and people to donate other valuable items to the project.
But what advice do the first-time writer/director/actors have for others hoping do the same thing? Because they play the couple in the film and were often on camera together, it was a challenge trying to stay focused on the production while acting, especially when it's 4 a.m.
"Exhaustion can make you make poor decisions," Brown says. "Even though you've got your shot list and your storyboards and everything, you have to make sacrifices during the day."
Finding a crew that was willing to go outside of their roles and take responsibility elsewhere was the key to a successful shoot.
"Looking through the footage, we're so amazed at how great everything turned out. We were able to talk through it together and with our crew members," Brown says. "That was the most important thing we learned: Communication. Especially when you're in a hard place."
"I second that," Walter says.
More like this story on Lawrence.com