Even when I didn't live in Lawrence, I wouldn't miss the Downtown Lawrence Sidewalk Sale. For me, it's equivalent to Black Friday shopping.
Although I don't love the early rise, I can't resist the awesome sales. On the other hand, the early hours can be a plus especially if you work during the day because you can snatch the best deals before you even go into work. But there's always that option of taking a vacation day, which I'm not opposed to doing.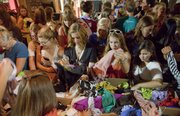 Crowds can be an issue for some, but that just comes with the territory. My first time experiencing the sidewalk sale was beyond overwhelming, and I didn't even go to the stores I wanted to because of the crowd. Now, as a veteran sidewalk sale shopper, I can give you some tips on how to navigate the packed sidewalks and hopefully walk away with some steals.
Plan it out
Before I make the trek down to Mass., I typically make a plan on where I want to go. If you have no plan, you'll just be walking around aimlessly and that's never good during a sale. d
I make a list of the places I want to go and start on one end of Mass, St., then make my way to the other end. Trust me, this sounds easier than it actually is. Depending on what time you go, you'll most like be caught in the crowd, so patience is key.
Just remember that once you reach your destination you'll be exposed to fabulous sales, so the crowd is worth it.
Go all natural
In my world, getting up early to beat a crowd for a sale means that I won't be getting fully ready for the day. Make sure you wear something comfortable so you can focus on what you're looking for.
Ladies, please don't lug around a heavy bag, and leave your uncomfortable shoes at home. I've definitely learned my lesson in doing this.
Unless you have something you need to get dressed up for right after the sale, then throw on your most comfortable clothes. I usually dress as if I'm going to the gym with my hair up and a comfortable crossbody bag.
You need both hands to rummage through everything, so a hands-free bag is your best bet.
Shop 'til you drop
Now that you're properly prepared, you can shop 'til you drop! Literally. It can be exhausting walking through racks of clothes in the summer heat, but just remember it will be worth it in the end.
Remember that list of places I told you write out? Stick with your plan and check out all of your must-go stores.
It never fails that I always start at Urban Outfitters. They have amazing sales that you don't want to miss. Then I plan on checking out Third Planet, Arizona Trading Company, Foxtrot, Hobbs and finish it off with a trip to Gap.
Good luck and happy shopping!
— Emily Kennedy is one-half of the stylish duo behind The Fashion Column blog she shares with her twin sister, Elizabeth. Emily can be reached at fashioncolumnblog@gmail.com.
More like this story on Lawrence.com