When you're the 5-year-old son of an avid baker, you come to accept certain things as givens: There are always cookies in the house, your birthday cakes are unfailingly awesome and your role as Chief Taster is unassailable.
But when Mama decides that you should be put on a gluten- and casein-free diet to see if it alleviates your Autism symptoms, it really puts a damper on snack time.
Or does it?
With the wealth of ingredients and inspiration available, specialized diets are becoming easier to manage and enjoy. Baked goods don't have to taste like doorstops, and can sometimes be a big improvement over their wheat-laden counterparts. With this in mind, I tried my hand at blueberry muffins for Junior's breakfast.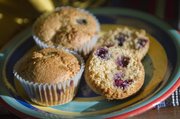 Using a coffee grinder, I churned out some homemade flour with almonds, gluten-free oats and quinoa. Because of inexpensive equipment and a lack of patience, my flour turned out a bit chunkier than commercial varieties, but it worked all the same.
The first batch of muffins earned me some rude comments from the local squirrels.
The second batch was much better, but still not quite what I was looking for.
The third batch received accolades from Junior. "I need more bluebewwy cake, Mama!" Even Daddy agreed: not too sweet, not too crumbly, and with a nice, rustic texture and flavor that we all liked.
Fire up your oven to 325 degrees and line a 12-cavity muffin pan with cupcake papers. Gluten-free treats are fairly delicate, and liners will save your snack and your sanity.
Dump 1 cup of almond flour into a bowl and mix in 1 cup of oat flour, 1/2 cup of quinoa flour, 1/2 cup of arrowroot starch, a tablespoon of baking powder, and a pinch of salt into a medium mixing bowl. Add a dash or two of allspice or cinnamon if you're feeling adventurous.

Melt 4 tablespoons of vegan butter substitute. Look for one that's especially made for baking; there are lots of good options out there. Whisk together 1/2 cup of honey and two eggs.
Stir the honey mixture into the flour, and then add the melted butter. Fold in a cup (plus a few extra) of blueberries. This is not your typical muffin batter; it's almost as thick as cookie dough. Spoon it into the cupcake liners in reasonably equal portions. Don't worry about smoothing out the batter or making it perfect; it'll bake up just fine.
Bake your muffins for 25-30 minutes, or until the tops are a nice, golden brown. Let them cool in the pan for a few minutes, then pop them out to serve warm or cool on a rack. With two hungry guys in the house, these muffins didn't last very long, so I have no idea how well they keep. With such a low fat content, they probably should be eaten fairly soon after baking. If you try freezing them, let me know how it turns out.
Enjoy!