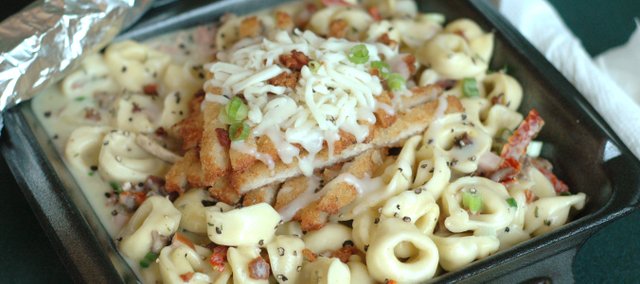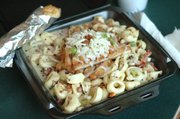 This is like chicken cordon bleu turned inside out and poured over pasta. Tortellini Cordon Bleu features ham, bacon, caramelized onions, sun-dried tomatoes and coarse-ground black peppercorns in a blue cheese-chardonnay cream sauce over cheese tortellini. The chicken is panko-crusted, sliced and served on top.
A foam container and plastic fork may seem underdressed for such an elaborate pasta, but the upside is that you don't have to box up your leftovers from this practically family-sized portion — that's what they're served in whether you're eating in or carrying out.
It should be noted, however, that the whole no-dishes thing isn't going to continue for long. When Basil Leaf Cafe moves out of its gas-station location in about a month, it plans to have real plates and silverware at its new home.
Where to get it: Basil Leaf Cafe, inside the Phillips 66 Miller Mart at 3300 W. Sixth St. (Note: That's for now. Basil Leaf is moving to the old Joe's Bakery spot, 616 W. Ninth St., tentatively in mid-August.)
What you'll pay: $11.95
Try it with: A blue raspberry slushy (which, like fountain drinks, you'll have to pay for at the gas station register) — not because it will taste good, but because you can. When else are you ever going to find these cuisines in the same room again?
Also on the menu: Parmesan and Basil Fried Shrooms, a Sicilian Steak Melt Sandwich, daily soups, lasagna, other pastas and a cheesecake of the day. The Basil Leaf menu also features a few Italy-meets-Bayou dishes, such as Red Beans and Risotto and Cajun Penne.
— Off The Beaten Plate highlights some of the more exotic, oddly named or inventively concocted (for better or worse) dishes from local menus. Know of an offbeat menu item we should check out? Email food and features reporter Sara Shepherd at sshepherd@ljworld.com. Tweet her at Twitter.com/KCSSara.