Two years ago when Barry Lee, a KKFI radio station show host, asked Lawrence musician Darrell Lea to play guitar in a band for a fundraiser that would feature Beatles music, Lea was quick to say yes.
"I've been fascinated with Beatles music practically all my life," he said. "It was definitely a no-brainer."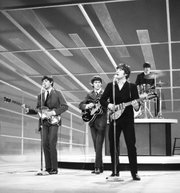 If you go
An Evening With The Music of the Beatles will be Friday at Liberty Hall, 644 Massachusetts St. Doors open at 7 p.m. and the show begins at 8 p.m. Tickets are $20 and are available at Liberty Hall Box Office or at Ticketmaster.com.
Now, three shows later, the band is bringing the radio station's fundraiser, and their own very large repertoire of Beatles' songs, from the Kansas City area to Lawrence. An Evening With the Music of the Beatles Friday night at Liberty Hall will feature the house band that includes Lawrencians Lea, Lee, Steve Wilson, Nate Holt, as well as Pat Tomek, Alan Wellman, Dave Tanner and Elaine McMilian, and other guest vocalists from Lawrence and surrounding areas.
Lee, the organizer of the event, said that in the past there have been other bands who played during the fundraiser, but for this concert he wanted it to be just the house band and guest vocalists.
"We have so much material now, if I had an opening band we might be there for four hours," Lee said. "The band can certainly carry the show on its own."
Even without the other bands, Lee said the show will last at least three hours. They'll play hits like "Hey Jude" and "Strawberry Fields Forever," as well as some lesser-known songs that even the Beatles themselves never played at a concert.
"(Guests) can look forward to hearing a lot of songs that were never performed live by the Beatles," Lea said. "The technology for music performance didn't exist back when they were touring. Songs (that fans) maybe never imagined they'd hear in a concert setting, we're playing."
Some of those songs include "Blue Jay Way" and "She's Leaving Home." During the encore performance, they'll play a set of 12 to 15 songs the Beatles performed before they were famous.
For Beatles fans who may be skeptical, Lee said the band goes through great lengths to play the songs as close as possible to the way the Beatles performed them.
"It's not going to be something that we'll bust through and halfway know them," Lee said. "These guys have been rehearsing them since April and they're very meticulous in doing the songs correctly; they've taken great pains to get them right."
Despite the fundraiser's success in the past, Lee is unsure if it will continue to be an annual event or if this show will be the last. He said if the venue, band and crowd are all happy with the concert, he would take that into consideration when deciding if there will be another event.