It's not uncommon to hear bands talk about taking a break. But when they do it's either for a little while or forever. In the case of The Pedaljets, the Lawrence-born band that was on the cusp of national stardom, it turned out to be about a quarter century.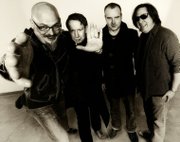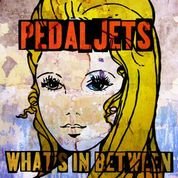 The Pedaljets formed in Lawrence in 1984, toured relentlessly supporting post-punk underground titans of the day like The Replacements, Husker Du, The Flaming Lips and the Meat Puppets, built a loyal following and released two albums to critical acclaim. But just as their star seemed to be burning its brightest, the band members decided to go their separate ways. Last month they released "What's In Between," their first collection of new music in 23 years. The now Kansas City-based Pedaljets will play at 10 p.m. Friday night at the Replay Lounge.
The band's first album, 1988's "Today Today" was well-received, and they rushed to complete their follow-up effort, "The Pedaljets." But the band says the fact that it was rushed showed in the final product.
"What essentially happened was we were in a rush. We wanted to get back out on the road and get the album recorded as quickly as possible," said Mike Allmayer, guitarist, vocalist and primary songwriter. "The studio we recorded in shut down halfway through our recording. We were there with a half-finished album; all of our money was gone. We said, 'Let's just try to get this mixed and fixed in 24 hours.' So it was essentially mixed in 24 hours, which wasn't probably the best idea, but back then we thought it was the only way to do it. When the album came out, it was flawed. When we listened to the final product, we weren't happy with it. It got great reviews. You can get great reviews but the fans know when it's not right."
The band knew it was not right as well and decided to pursue other projects. Allmayer went to the harder-edged Grither, bassist Matt Kesler took up jazz with the Midtown Quartet and to this day operates Midwestern Musical Co., and Phil Wade, who was unavailable to join the reformed band, played with bluegrass act The Wilders. But around 2006 the band learned the original tapes from the disappointing second album were salvageable. So they set to work on finishing the record and remixing it the way they originally had wanted to. They played a few shows together again and slowly but surely reunited completely.
"I think when we went back to remaster and remix the album from 1990, I don't think we had any intention of reuniting seriously and making a new album," Allmayer said. "We were always up for doing a few more shows, we enjoyed playing with each other and getting together and shooting the (stuff), but I don't think we were consciously saying, 'We need to do another album of new songs.' You're not sure you're gonna have that chemistry still; you're not sure if anybody's gonna be interested in The Pedaljets 23 years later, but then once we started playing with each other and started working on new music, we said, 'You know what, I don't know if anybody's interested in this, we're enjoying it, we like it,' and that's what drove it."
Longtime friend and collaborator Paul Malinowski helped finish and produce the updated second album and played a few guitar tracks to fill in spots where it was needed. It turned out his schedule was flexible and he took on second-guitar duties in Wade's stead. Original drummer Rob Morrow also re-entered the fray. Once they had the songs in the can, they wanted an outside opinion, someone with a different perspective to mix the album, the step that went so wrong in 1990. Enter John Agnello, a studio stalwart who's worked with rock and roll luminaries such as Dinosaur Jr., Sonic Youth, The Hold Steady and Kurt Vile to name a few. The Pedaljets traveled to Brooklyn for the final step and knew they had something they liked.
"So we flew up to New York and had (Agnello) mix it over a week or so, and I just remember when we sat down with it and listened to it for the first time as a complete record, it was like, 'Hey, this is well worth it,'" Allmayer said.
The key was taking their time approaching it with the philosophy of doing the record the way they wanted to without worrying about what a record label might think of it, or with any concerns toward marketing or distribution, all concerns that played heavily in the process during their early days. So far, critical reception has been positive.
"What's In Between" is the fruit of that reunion, a smart, vibrant rock and roll record that perfectly balances loose (not sloppy) performances with highly-crafted writing," read a review in The Big Takeover.
While it would be easy for a band that came so close to breaking through to the big time to be bitter or resentful, Allmayer said they have no regrets. They know the mistakes they made and don't want to repeat them. For now they plan to enjoy their time together again and appreciate the fans who have enthusiastically welcomed them back. They'll play a series of regional shows, maybe tour to each coast and have discussed playing some shows in Europe.
"It's been really gratifying," Allmayer said of the reception. "We're back in the ship, the sail is up, let's see where the wind takes us."
More like this story on Lawrence.com