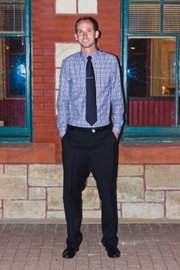 Name: Blake Shmalberg
Age: 26
Relationship status: Single
Hometown: Lawrence
Time in Lawrence: Been here my entire life
Occupation: Real estate agent
Dream job: I want to continue doing real estate
What were you doing when scouted? I was helping my boss with a special event.
Describe your style: I would say it's unique and classy with an old-school feel to it.
Fashion trends you love: Paisley ties are my No. 1 fashion trend!
Fashion trends you hate: Oh geez, not that I can really think of. I don't judge any fashion trends.
Fashion influences: Mostly the Internet and my brothers because we wear similar stuff.
What would you like to see more of in Lawrence? I think that Lawrence already has a pretty good uniqueness to it and that's what I like. I don't know that there is anything I would change fashion-wise.
Less of? Nothing comes to mind.
Tattoos or piercings: I have seven tattoos total. One is an anagram that if you read it one way is my mother's maiden name and if you read it the other way, it's my last name.
Whom do people say you look like? My mom thinks I look like Nicolas Cage. I don't know if that's true or not!
What type of music do you unwind to? I like a lot of hip-hop and oldies.
Tell us a secret: I always wanted to be an astronaut.
More like this story on Lawrence.com