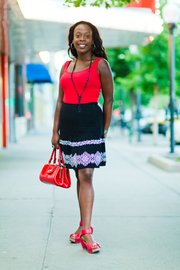 Name: Ryann Pem
Age: 34
Hometown: Wichita
Time in Lawrence: Since '96
Occupation: Human resources
Dream job: Maybe a Broadway actress
What were you doing when scouted? Heading to a barbecue
Describe your style: Eclectic, diverse, classy, modern and cool.
Fashion trends you love: I love chevron prints, a-line shirts, skinny jeans, silk tops, high heels, long necklaces, belts and belt buckles. I'm in a belt buckle phase right now because I found this particular one at a garage sale; it's a bus, 1978, old-school and I love it!
Fashion trends you hate: Except for too short shorts, I pretty much appreciate all fashion. There's not really anything that I hate but I think it's nice to have a little bit of class and pay a little bit of attention to what you're wearing no matter where you're at.
Fashion influences: Just watching and paying attention to what's going on in the fashion world, magazines and a little television. I also like local artists too and seeing what they're doing. My mom was huge into fashion and she was a very classy goddess. She loved to take us to local fashion shows and loved to dress us little girls up all the time!
What would you like to see more of in Lawrence? 
More classiness, more attention to style and fashion and bringing back the old-school classic lady look. I'd like to see more ladies understand it's OK to dress up because you want to and not just because you have to.
Less of? I would like to see less guys wearing those shirts with the crocodile on them. Less Lacoste, more creativity!
Whom do people say you look like? Rudy from "The Cosby Show."
What type of music do you unwind to? Jazz
Tell us a secret: I'm obsessed with peanut butter and chocolate.
More like this story on Lawrence.com