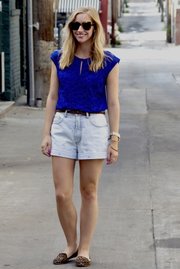 I typically try to dress appropriately for the day's activities, but that can be quite the task without some tedious planning. And let's face it; most of us don't have the time to plan out an outfit that will work for both day and night.
But there are a few tricks you can use to instantly transform your look from a casual summer day to a spontaneous night out with friends.
Swap out your accessories
Transforming your look doesn't mean you have to create a completely new outfit. A few changes here and there can simply have you looking evening-ready, plus it's much easier and takes less time.
I always go for the shoes first. Daywear typically includes a flat shoe or sandal, so switching them out for a little height will instantly dress up your look. For summer, I like a chunky wedge or sandal that's somewhat easy to walk in, but a strappy-heeled sandal is always a stylish choice.
Once you've switched out your flats for heels, move on to your bag. Shoes and handbags are two key accessories that can really make a look stand out, and they are the easiest to switch out. Night-worthy bags can either be fancy clutches or a nice structured-style tote or satchel.
Depending on where you're going, either of these are perfect options. I tend to go for the structured satchel bag because those are currently on trend, and they are big enough to carry my belongings.
A neutral color works with just about any outfit so do yourself a favor and stick with blacks or browns.

Now you're ready to focus on the bulk of your outfit, as I like to call it. As I mentioned before, don't change out your entire outfit because that defeats the purpose of easily transforming your look. For example, I try to swap out either the bottom or the top, but not both.
Tops tend to be the easiest pieces to change as opposed to bottoms such as jeans or shorts because they go with more pieces in your closet. When transitioning from day to night, I look for pieces that are more tailored or structured. This will make you look pulled together, which is definitely appropriate for night attire.
Structured or tailored pieces can be anything from a blazer to a collared button-up shirt or tank top. Another quick tip is to tuck in your top because it can easily create a polished, evening look.
You can use this method on almost any outfit for a stress-free way of changing your look, which I think definitely beats wondering around your closet aimlessly trying to find something new to wear.
— Emily Kennedy is one-half of the stylish duo behind The Fashion Column blog she shares with her twin sister, Elizabeth. Emily can be reached at fashioncolumnblog@gmail.com.
More like this story on Lawrence.com