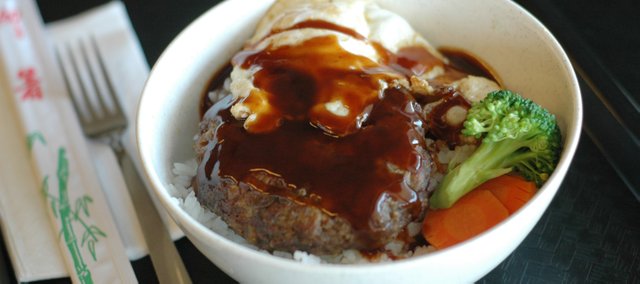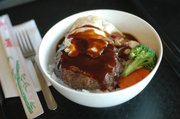 Dondon serves simple, homestyle Japanese rice and noodle bowls, so the word "hamburger" looks pretty out of place on the menu. But the "Hamburger-don" donburi (rice bowl) isn't like the kind of hamburger most Americans picture. It's a Japanese-style meatloaf patty — with flavors reminiscent of the meat filling in Asian potstickers or Vietnamese meatballs — atop a pile of white rice and drenched in teriyaki sauce. It comes with a fried egg on top or, if you prefer, extra vegetables.
Off-menu bonus: At Dondon, a little motion-activated machine by the door greets you — "Welcome!" — and sends you off — "Goodbye!" — in Japanese. (At least that's what the notes on the wall say it's telling us.)
Where to get it: Dondon, 2223 Louisiana St., Suite E (northwest corner of 23rd and Louisiana streets)
What you'll pay: $6.95 for the regular size, $8.95 for large.
Try it with: Sriracha sauce, if you can't go a meal without the stuff.
Also on the menu: More rice bowls and Udon noodle bowls, with both meat and vegetarian options. Sides include edamame, seaweed salad and green tea or red bean ice cream.
— Off The Beaten Plate highlights some of the more exotic, oddly named or inventively concocted dishes from local menus. Know of an offbeat item we should check out? Email food and features reporter Sara Shepherd at sshepherd@ljworld.com. Follow her at Twitter.com/saramarieshep.