There is no dearth of talent in Kansas as witnessed by this month's Final Fridays, where dozens and dozens of native Kansans will show off their skill and artistry in music, cooking and the visual arts.
'Beneath the Surface'
Lawrence resident Marie McKenzie has a solo exhibition, "Beneath the Surface," on display at Henry's Coffee Shop, 11 E. Eighth St. McKenzie, who received her bachelor's degree from Kansas University, is a multidisciplinary artist who has created this series of works in an attempt to uncover the forgotten and unnoticed world.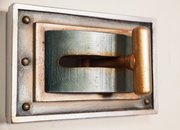 McKenzie took her first sculpture class her senior year and was struck with how easily the art form came to her.
"At that time I was struggling with painting, attempting to build up the surface with paint yet never able to reach to depth that I was truly after," she says. "A teacher suggested that I start attaching things to the surface, and so I began to adhere pieces of scrap wood to my panels and saw the importance of dimensionality in my work.
"The newest series of work conjoins the two mediums of painting and sculpture in order to explore the surface and our resonance in linear structures, focusing on manmade barriers and legacies."
Kansas artists on display
Three artists are showing their works at Extra Virgin, 937 Massachusetts St.
Kathleen Anderson, from Lawrence, has been painting oil and watercolor landscapes, city scenes, seascapes, flowers and animals for 14 years.
Linda Baranski, who lives in northeast Kansas, works in several mediums including oils, acrylics, and watercolors for her paintings, and her mosaics are created using glass tiles, stained glass and various found objects.
And Lawrence resident Laurie Culling is a visual artist whose work ranges from realistic to abstract. Like Baranski, she works in a variety of mediums including acrylics on canvas, mixed media on gypsum, monotypes, pastels, handmade paper collages and fabric. Culling is the co-founder of the Phoenix Gallery — which is also featuring Kansas artists this month: Amanda Goth, Justin Bergin and Angie Pickman.
The artists who fill the Lawrence Arts Center's galleries are also from Kansas: Jack Collins has spent 10 years exploring the ideas that went into creating the show on display in the large gallery; "Canned Heat," a series of drawings by KU professor Michael Krueger, is on display in the antecedent gallery; and while Monika Laskowska is not a Kansan (she was born in Poland), her solo exhibition in the middle gallery was created during her residency in at the Arts Center and reflect on relationships she formed during the past year in the state.
Playing around
There will be an opening reception for work by life-long Kansan Jeannette Bryant at Essential Goods, 15 E. Seventh St., in the Palladian Building. After retiring from over three decades teaching English and journalism at Eudora High School, Bryant began to get serious about her art, which is anything but serious.

A regular participant at Bizarre Bazaar, she describes her work as whimsical, quirky and unconventional.
"I like to have fun," she says, "Right now I am smitten by my gold Elvis pin. I never know what I'll come up with. It's just whatever tickles my fancy."
Much of her work is designed on computers and enhanced before it is transferred to wood or mat board.
"I like to Photoshop animals and basically just play around," she says.
If that is not enough Kansas for you, the Plains Gallery, 619 Massachusetts St., is featuring the work of F.D. Brown, a Lawrence resident who draws his inspiration from the rustic lifestyles the Old West, and the Cider Gallery, 810 Pennsylvania St., is hosting a reception for Tim Forcade, who also lives in Lawrence.
And if you're worried about the future of Kansas art, Van Go! Mobile Arts, 715 New Jersey St., is unveiling the artwork of 21 young artists who have spent the summer designing and creating benches for organizations in the community.