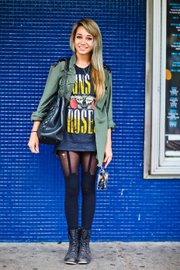 Name: Brittany Bowman
Age: 22
Relationship status: I have a boyfriend.
Hometown: South Sioux City, Neb.
Time in Lawrence: Just a few hours.
Occupation: Merchandising for the band Stars in Stereo.
Dream job: I think it would be similar to merchandising, maybe production but it would definitely be on the touring side of music.
What were you doing when scouted? I was going inside the Granada to check the status of the merchandise setup.
Describe your style: If I find something, I try to put it together in a way that works. Since I'm a crew person we have to wear a lot of black, so I try to make that color girly. On my own time, I still wear a lot of black because it's 'rockery' and sometimes there's a little bit of hippie-ness added to it. I do my own hair too.
Fashion trends you love: I really like the made-up Army stuff and cut-up shorts that are decorated with studs and the vintage rock T's. I'm also a fan of the long skirts with crop tops that are coming out.

Fashion trends you hate: I hate anything to do with neon. There has to be something better out there! It's so awful!
Fashion influences: I think mostly from following random models on Instagram like Cara Delevingne. She has the coolest style! People also post pictures on Tumblr of people's outfits of the day so it's fun to pick from them and put together something cool.

What would you like to see more of in Lawrence? I've only been on Mass. Street and I really like that there are a lot of restaurants and vintage stores. There's a very cool used video game store that made my day and a few mom-and-pop type of stores.
Less of? Not really. It seems like a really beautiful town with nice people.
Tattoos or piercings: All over the place. One is called the Kodama from a movie called "Princess Mononoke" by (Hayao) Miyazaki. It's a tree spirit from Japanese folklore that brings good luck.
Whom do people say you look like? Bec Hollcraft for the band I work for called Stars in Stereo.
What type of music do you unwind to? I like to listen to calmer rock music like Isley or John Meyer.
Tell us a secret: Well, I left our tour bus dog out and I wasn't supposed to! Don't tell!