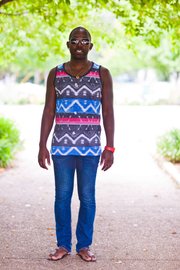 Name: Christopher De La Cruz
Age: 27
Relationship status: Cautiously single
Hometown: Coffeyville
Time in Lawrence: Nine years
Occupation: Customer service rep at Hipstermaid
Dream job: A polyglot author. I'd like to write books in multiple languages.
What were you doing when scouted? On my way to dinner with friends.
Describe your style: I usually wear shorts but I'm trying to avoid mosquitoes now, so my style is light and accessible as possible. I like my summer-wear to be free and comfortable. Winter is a whole different animal. I wear a lot of fake glasses and I quickly abandon shoes that make me seem taller than I am. Winter is about being as stylish as humanly possible.
Fashion trends you love: I'm really glad that tank tops have displaced polos for the summer. I look through magazines once in awhile and I just pick and choose what I wear. I also wear a lot of fake glasses although I wear real glasses. I'm inspired by women's fashion.
Fashion trends you hate: I don't like cargo pants. I think Tommy Hilfiger's daughters who related them to poor people ruined it on their reality show. The complete and total abandonment of matching colors has been killing me. Patterns that don't go with each other, but sometimes it works for people that have a better sense of art; however, most people are not artists.
Fashion influences: I'm usually inspired by women's fashion because there is a lot of diversity and men get boxed into specific things that they are allowed to wear.

What would you like to see more of in Lawrence? There's not enough tea shops. If you could forcibly bring back tea shops in Lawrence, I'd be thankful.
Less of? I would trade a few bars for diverse clubs that are not tailored toward a specific age group or demographic.
Tattoos or piercings: Just gauges in my ear.
Whom do people say you look like? Will.i.am! I hope no one harasses me about this!
What type of music do you unwind to? Soul, blues or female Korean 'not-pop' artists because they're good mood setters when I'm writing.
Tell us a secret: I have only formally dated four people in my life.