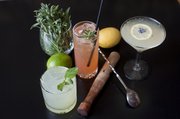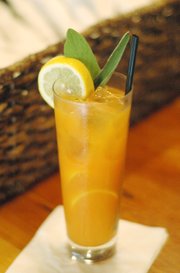 The sunrise-colored cocktail is fresh, sweet and citrusy, poured over ice in a tall, slender glass with a lemon wheel. But this isn't just another fruity drink.
A find from herb garden gives it an unusual, fresh-picked kick: sage.
The Tequila Sage at the Roost is just one of the inventive, herb-flavored craft cocktails on menus at Lawrence restaurants right now.
Of course mixologists find inspiration from the array of increasingly unique spirits available to them. They've also started craning their necks to see what kind of fresh ingredients are coming into the kitchen, and that includes a bouquet of herbs.
At 715, front-of-the-house manager Margie Hogue says, this trend shows in the restaurant's latest drink list.
"It's definitely evolved ... to incorporate all these local ingredients," Hogue says.
715, at 715 Massachusetts St., has several herb-infused options on its cocktail list, including the Former Spy — vodka and house-made limoncello with subtle flavor from lavender simple syrup — and the Aperol Spritz — featuring Aperol, elderflower liqueur and rosemary.
A popular regular special is 715's Basil Rickey, made with muddled basil, lavender, cucumber, gin, orange bitters and lime. Bartenders also have been known to whip up drink specials using fennel, marjoram "or whatever herbs are coming our way," Hogue says.
Mint is one herb that isn't unusual in a cocktail — mojitos and mint juleps are recognizable favorites. But several Lawrence restaurants are mixing mint with more unexpected companions.
One is the Eldridge, 701 Massachusetts St., which serves a sultry after-dinner concoction called Shadow in the City. The bourbon-based cocktail is made with cold-brewed coffee, Tuaca, honey and muddled orange.
"People are really being adventurous and trying it out," says Steven Elliott, a manager at Ten and the Jayhawker in the Eldridge. "They say, 'Hmmm, that sounds interesting,' but once they try it they've been really pleased."
At the Roost, newly opened at 920 Massachusetts St., the Tequila Sage and several other breakfast-appropriate cocktails with herbs add to the restaurant's farm-fresh vibe. Offerings at Pachamama's, 800 New Hampshire St., include dill in a gin-based drink called Sweet Summer Sleep and the whiskey-based Rosemary Poppins.
Kenny Pingleton, manager at Pachamama's and co-owner of the Roost, says herbs are fragrant, fresh-tasting and often locally grown, making them great additions to cocktails — especially in summertime.
"Something about having different kinds of savory and sweet herbs in your drinks, it's just fun, delicious and refreshing," Pingleton said.
What to order
Some Lawrence cocktails featuring fresh herbs.
Basil
• Prohibition Lemonade (bourbon, Licor 43, lemonade, basil), $9 at Pachamama's
• Strawberry Pleasures (pisco, sugared strawberries, basil, cava), $7 at the Roost
• Cool Cucumber (cucumber-basil infused gin, orange liqueur, lime, soda), $8.50 at Mariscos
Dill
• Sweet Summer Sleep (gin, dill, cucumber, lime, Luxardo maraschino liqueur), $8 at Pachamama's
• Neighbor Brad's Clamato Mary Cure (Clamato, vodka, dill weed, lemon pepper, celery salt, Tabasco, Worcestershire, lime, garlic dill pickle), $6 at the Roost
Lavender
• Former Spy (vodka, house-made limoncello, lavender simple syrup and garnish, lemon), $9 at 715
Mint
• Shadow in the City (bourbon, Tuaca, cold-brewed coffee, muddled orange, mint, local honey, bitters), $9 at the Eldridge
• Spa Water (vodka, ginger liqueur, cucumber, lime, rosewater, soda, mint), $9 at Pachamama's
• Deadwood (rye whiskey, Cointreau, orange bitters, honey, mint), $7 at the Roost
• The Green Line (vodka, mint, cucumber, serrano pepper, lime), $9 at 715
• Tequila Smash (Camarena, Grand Marnier, agave, mint, lemon), $9 at 715
Rosemary
• Rosemary Poppins (rye whiskey, rosemary, orange, bitters, soda), $8 at Pachamama's
• Aperol Spritz (Aperol, elderflower liqueur, rosemary, lime, cava), $9 at 715
Sage
• Tequila Sage (sage-infused silver tequila, carrot juice, lemon juice, honey, ginger beer), $7 at the Roost
Tarragon
• Lost Weekend (gin, tarragon, lemon, sugar, elderflower liqueur, club soda), $7 at the Roost
Thyme
• Summerthyme G&T; (gin, local honey, lemon, tonic, muddled thyme and cucumber), $8 at the Eldridge