History is being made at the Lawrence Public Library. Well, remade, with a modern, teen-inspired twist.
To commemorate the sesquicentennial of Quantrill's Raid, library employees Karen Allen and Jenny Cook have been helping 14 young women create modern fashion pieces inspired by the victims of the raid that occurred on Aug. 21, 1863.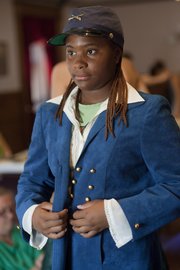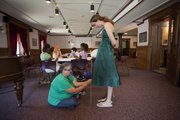 If you go
The Civil War Fashion Show will be held at 2 p.m. Sunday at the Watkins Community Museum of History, 1047 Massachusetts St. It is free to attend.
After sewing, stitching, and cutting their pieces to their creative standards, these young women will present their finished costumes at a Civil War Fashion Show at 2 p.m. Sunday at the Watkins Community Museum of History, 1047 Massachusetts St.
Anne-Marie Turner, a 15-year-old student at Lawrence High School, is working on a dress inspired by Ella Prentice Neill. Ella stood face-to-face with the most hated man in Lawrence, William Quantrill, just two weeks after surviving the raid. Suspicious that the mysterious traveler eating at her parents' table was Quantrill, Ella followed him down the street after he left.
A few days later, Quantrill boasted of his boldness in returning to the town he had sacked.
Anne-Marie found inspiration in Ella's story, which is evident in her dress project. She has updated the dress to fit an adult rather than a child because of Ella's mature, "daring" behavior and has cropped the skirt to fit today's style. Anne-Marie described the final product as a "fuller, short tutu skirt" with uncovered shoulders and arms.
Where women in the mid-19th century were expected to cover their legs and arms at all times, the young women at the Civil War workshop have updated their pieces to be a bit more revealing, albeit still classy and sophisticated.

Hazel Ingram, 13, and Reagan Ingram 14, are home-schooled sisters attracted to the program because of recent lessons about the Civil War in addition to their love of costuming. Each are bringing their own flair to their projects. After researching a man shot and left in his burning house to die, Hazel designed a woman's outfit with a flame motif. The skirt has a fire pattern, while the blue top (surfeit with bullet holes) is meant to evoke a blue flame.
Insisting that she is "not a sewer, but likes styling," Reagan chose her female subject because of little historical description. One outfit is inspired by a woman named Lydia Stone's wealthy lifestyle before the raid (her father was a local hotel owner) with lace detailing. A second is meant to reflect the mayhem of the raid with stylized rips, haphazard "repair" stitching and mulberry stains.
Tabby Reber, 16, is using her sewing experience gained through making pillows to fashion an updated party dress inspired by schoolteacher Annie Prentis. Sofia Quintana, 13, has reimagined a 19th-century day dress for the 21st century by working with strong cotton twill, cropping the sleeves, and hemming the skirt.
Whether you're interested in fashion, Civil War history, or the lingering effects of Quantrill's Raid on Lawrence, you can support these young women at their fashion show as they bring a (fashionable) interpretation of Lawrence's past to life.
More like this story on Lawrence.com