Photo Gallery
'Nightmarriage'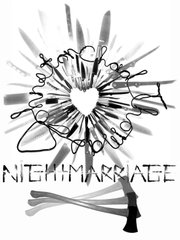 The book "Nightmarriage" by Lawrence resident Chad Thomas Johnston features original illustrations by Johnston and several other artists. Here are some of them.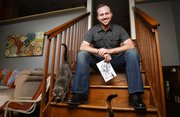 Book signing, more online
Chad Thomas Johnston will sign copies of his book, "Nightmarriage," from 1 p.m. to 3 p.m. Saturday at Signs of Life, 722 Massachusetts St. The book also is for sale at the Raven Book Store, 6 E. Seventh St.
Print and electronic versions of the book can be purchased online through Johnston's website, chadthomasjohnston.com. He's also created a Pinterest page for the book, pinterest.com/saintupid/nightmarriage, and tweets his "Nightmarriage" as it unfolds at Twitter.com/Saint_Upid.
Quirky, creative types come together in Lawrence resident Chad Thomas Johnston's first book, "Nightmarriage."
The name may sound like the title of a slasher movie, but really, as Johnston explains in the forward, it's a wordplay reflecting what follows: a collection of humorous essays inspired by his recent foray into marriage and childrearing. Between the essays are original illustrations by artists Johnston knows — and knows to be like-mindedly a little offbeat and appreciative of the hilarity and absurdity in everyday life.
"I felt like they could all add substance to the book, add something that my writing couldn't do on its own," Johnston says.
Johnston is a minister's son, a self-described obsessive-compulsive stay-at-home dad and "something of an eighth-grader trapped in the body of a 34-year-old man."
"Nightmarriage," he says in the book, released this year by eLectio Publishing, is a whimsical memoir exploring "the terrors of marriage and the perils of parenthood."
"I wrote it not as a seasoned husband or father, but as one who still has much to learn," he writes. "In both of these roles, I remain as awkward as a boy learning to ride a bicycle; I wobble, teeter this way and that, and crash into mailboxes and parked cars occasionally."
One chapter, "My Wife, the Black Hole," expresses a new husband's bewilderment at how his spouse can possibly lose her keys and other important items so often. An accompanying two-panel illustration by Kansas City-area artist Danny Joe Gibson shows first a plethora of things, then a spinwheel as they disappear into oblivion.
"Honeymoonwalking (To Jail)" sketches the couple's one-on-one conversation when they notice that African-American celebrities seem to be dying each year in conjunction with their anniversary and fear someone might blame them for it — first Michael Jackson during their honeymoon, Gary Coleman just before their first anniversary, then saxophonist Clarence Clemons, then Rodney King. Lawrence artist Jason Barr, who signs his work Barrr, illustrates each in bright, visceral watercolors.
Then there's the pregnancy craving letdown.
"On TV, pregnant women always ask their husbands for things like pickles and ice cream, so I could only hope Becki would do likewise. My inner eighth-grade boy hoped she would ask for even more colorful things though — like rainbow trout topped with rainbow sherbet," Johnston writes. She didn't, but a rainbow-colored pencil illustration by Lawrence artist Darin White depicts the dish the chapter's named for: "Rainbow Trout Topped with Rainbow Sherbet."
Johnston created the book's cover art himself, layering photos of real knives and an axe with his name formed in wire. For other illustrations he enlisted artists "who had something to say" and who would contribute work without a commission.
"It gets them exposure, but it also broadens the appeal of my book," Johnston says.
White, also married with children, says he read the book and thought it was funny. He picked chapters that conjured visuals he thought were interesting.
White's own wife helped him with ideas, including putting a gorilla couple in a bizarre "American Gothic" tableau for the chapter "Blessed are the Tentmakers." The figures are framed by a tent, like the living-room tent Johnston built for his wife when she asked for one on a whim.
Barr says he, too, picked content that spoke to him — he didn't want to create art if it was too out of place with the rest of his work. But illustrate Michael Jackson? Sounded fun.
"I thought it would be a challenge to fit my far-out style with a little more of a conservative take," Barr says.
A lot of artsy types seem to surround themselves with weird things and eccentric people, maybe to reinforce the way they want people to see them, Barr observes. Getting married and having kids can seem like the opposite.
But really, says Barr, who has a wife and two kids of his own, the world of family life can be just as crazy.
And with the right translator, like Johnston and the artists in his book, it's really funny.
"As a creative person, sometimes you forget that sometimes the more normal ... aspects of life can be the weirdest," he says.