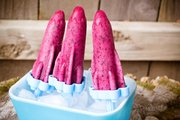 We live in Kansas so, no matter how mild the summer may begin, it's a good bet that there will be at least a few weeks in July when it will be crazy hot outside.
As I tell my friends in more temperate climates, the heat can make a person almost as stir crazy and trapped as a winter blizzard.
If summer's version of cabin fever hits you, here are a 10 suggestions for getting through.
Have a cold drink
For the grown-ups, a cucumber gin and tonic is a great place to start. (Just muddle a few slices of cucumber in the bottom of your glass, then make a G&T; as normal.)
A horsefeather is also very refreshing. (Two ounces of whiskey, half a can of ginger ale, and a healthy dash of bitters, over ice.)
For a more family friendly drink, I like to make flavored water. You can use just about any fruit or herb that you think might be popular with your crew.
My favorite is a handful of mint and a few slices of lemon.
Add your flavoring to the bottom of a pitcher, fill with cold water, and let it seep in the fridge overnight.
Then you can either strain off the fruit or leave it, again, depending on your family's preference.
Head for water
Go to the lake, dive in the pool, turn on the sprinkler — wherever you are, water can't be too far away.
Find it. Submerge. Repeat.
Don't turn on the oven
Raid your fridge for all the cold nibbles you can find — odd bits of lunchmeat or summer sausage, leftover nubs of fancy cheese, pickles, fruit and veggies.
The only rule is that everything must be able to be enjoyed cold.
Arrange it all prettily on a platter or cutting board, and put it in the center of your table with crackers or bread on the side. Plates are optional.
Nap like the kids
Use the hot weather as an excuse to have a siesta. There's something brilliant about sleeping through the hottest part of the day.
Make flavored ice
If you have rocket ship molds, all the better — I got mine at the Downtown Lawrence Sidewalk Sale last year — but an ice cube tray and some plastic utensil "sticks" will work in a pinch.
We like to mix a dash of cold coffee and chocolate milk to make mocha pops. You can also mix fruit — peaches, papaya, berries — with yogurt in a food processor to make fruit smoothie ice pops. (Use about 1 cup of yogurt to 2 cups fruit, and add honey as needed for sweetness.) Or, even easier, just freeze some diluted fruit juice.
Hold a front porch concert
Have an old guitar in your basement? Anyone can learn to play a few simple tunes. "Twinkle, Twinkle" is a favorite at our house, for example.
No guitar? Make a good playlist on your phone and put it in a drinking glass to amplify the sound. Enjoy in conjunction with No. 1.
Turn your living room into a movie theater
You could head for a real movie theater, of course, but if that's impossible with your little kids or if it's out of your budget, you can turn your home into a movie theater instead.
Just pull the window shades down, pop a bowl of popcorn, crank the AC, and start a movie.
Yes, for most of us the screen won't be as big, but the extra leg room and much cheaper snacks will make up for it.
Watch a meteor shower
With the moon setting at about 10:30 p.m., this year's Perseid meteor shower — it peaks on the night of Aug. 11-12 — should be decent viewing. Pack up lawn chairs, blankets, and bug spray, and head away from city light pollution. While the meteors will appear to originate from the constellation Perseus, your best bet is to lie back as much as possible and look straight up.
Become friends with the sunrise
Before kids, I only saw the sunrise a few times a year, but lately we've become best buds. When afternoon temperatures are hitting, or passing, the 100-degree mark, sunrise is the only time to go for a run or work in the garden.
Think of cooler days
Remember the snow that came in April this year? And the winter mornings — every winter — when you step out the front door and it hurts to breathe because it's so cold? It's hard to think of it now, but that weather will be back in just a few short months.
So, as bad as the heat is now, relish it a little, because it really won't last for long.
— Meryl Carver-Allmond lives in Lawrence and writes about chickens, babies, knitting, gardening, food, photography, and whatever else tickles her fancy on any given day at www.mybitofearth.net.