One thing I really love about living in Kansas is that we get to experience all four seasons. As someone who takes their fashion seriously, the changing seasons mean that I get to wear new and different clothes.
Whether you like it or not, we are in the midst of some serious heat and humidity and a slight change in your wardrobe is necessary. Being comfortable (and stylish) is always my goal, and let's face it, wearing clothes that will bog you down in this heat will not only make you uncomfortable but you'll stand out, and not necessarily in a good way.
My summer attire game plan is summed up in one word: simple. There's no other way to dress in 100-degree heat other than to keep it simple.
What to wear
My go-to summer piece that never fails me is the cotton dress.
I've stocked up on plenty of light-in-color, lightweight cotton dresses for my summer outings. They are comfortable in this unbearable heat, and they are right on trend this season.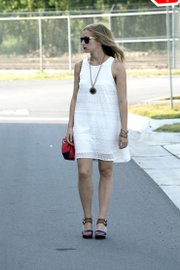 If you have yet to stock up like myself, look for flowy pieces that aren't too fitted. White is a huge trend right now and it keeps you cooler than darker colors. Any length from right above the knee to floor-length maxis are trendy options. Right now, I'm really into the midi and maxi length dresses; however, shorter styles will always have a spot in my closet. This season I've been seeing a lot of cutout-style dresses, which are a plus in my book because a little less fabric in this heat is always welcome.
If dresses aren't your cup of tea, there are many other options you can wear to look stylish and stay cool.
Shorts worn with a cute, lightweight tank top are my next go-to outfit combo when I've exhausted all my dress options. Shorts come in so many different styles these days. Anything from high-waisted (which I love right now) to basic denim to a lace or crochet construction can be worn this summer.
Another piece I'm slowly getting myself accustomed to is the cropped top. Although cropped tops have been around forever, I've never really thought I could pull one off. My rule for wearing a cropped top is to make sure to have a high-waisted bottom so you're not showing too much of the midriff.
You also want to make sure it's appropriate for your outing. For example, a high-waisted maxi skirt and a cropped top that only shows maybe an inch or so of your midriff is perfectly stylish and appropriate for a casual, hot summer day.
Let's not forget about the most important part of your outfit: the shoes.
Again, keep it simple. I prefer flats, but a little height won't hurt you in the heat. Strappy, neutral sandals are my summer styles of choice. During the summer, my shoe collection consists of flat strappy sandals in every neutral color you can think of.
They go with anything, so that alleviates any stress of trying to find shoes to match my summer attire.
I like to layer my clothing, especially in the fall and winter, and I still tend to do it in the summer. But I keep it minimal because the heat doesn't allow much room for layering.
If you're like me and absolutely have to incorporate some layering every once in a while, try layering with a cutoff denim vest or any type of lightweight vest. That way you can still have the dimensions you're looking for without getting overheated.
Now you're ready to beat the heat for good and, of course, look fabulous doing it!
— Emily Kennedy is one-half of the stylish duo behind The Fashion Column blog she shares with her twin sister, Elizabeth. Emily can be reached at fashioncolumnblog@gmail.com.
More like this story on Lawrence.com