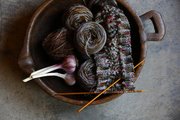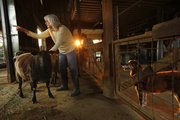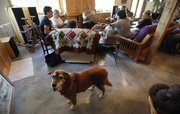 Bosco, according to his owner Barbara Clark, is "somewhat of a contrary sheep."
Yet his thick, fluffy coat can be turned into things as soft and sweet as anyone could imagine — like the whimsical charcoal-gray stuffed bunny rabbit Lawrence resident Marianne Wille is pulling from her knitting bag.
Wille says she loves Clark's yarns, Bosco's included, because "they're strong and soft at the same time."
Clark and her husband, David Clark, own Maggie's Farm north of Lawrence. Joining the Maggie's Farm CSA doesn't get you vegetables from a farmer you know — it gets you wool from sheep you can meet.
The Maggie's Farm knitting CSA, short for community supported agriculture, meets monthly to knit, and Clark doles out new yarns every other month.
Clark said she'd heard of knitting CSAs in other parts of the country but none around here. She started her CSA three years ago, and there are now a dozen members.
"We all had the same knitting addiction, the same spinning addiction, the same weaving addiction," Clark said. "It seemed like the whole community part of it was already in place."
Clark's nine-member flock includes Suffolks — sheared just once a year — and Lincolns — sheared in spring and again in fall. To kick off the annual CSA program, members are invited to a spring wool harvest luncheon at the farm, where they can watch a third-generation traveling sheep shearer in action.
Throughout the year, Clark uses the wool to create new yarns: some she spins and dyes herself and some she sends to a fiber mill for processing. In addition to selling them through the CSA, Clark sells yarns — identified by the name of the sheep it came from — on the Maggie's Farm website, maggiesfarm-ks.com.
Balls or skeins of yarn in the CSA shares come with a pattern and, sometimes, a seasonal surprise.
At the group's July knitting social, which took place in Clark's living room at Maggie's Farm, members received balls of rich-hued multi-colored yarn and a handout with instructions for creating a scarf in a pattern called "Stinking Rose" — a term for garlic, which Maggie's Farm grows in abundance and the sheep love to eat. Along with the yarn and pattern, members each got a bulb to take home.
For Clark, getting her own flock of sheep was a convergence of her love for textiles and animals. She's been spinning nearly 40 years and found that, when she started knitting, she loved it just as much.
"It got me by a vengeance," she said. "Now I have the knitting bug bad — and the sheep are enablers."
As women settle into the knitting circle, an array of projects emerges from an equally colorful array of bags.
Out of a heavy-duty blue and red Craftsman tool tote comes a soft, lacy milk chocolate-brown scarf-in-progress. From a chic floral hamper with a wooden frame unfurls an intricately textured green sweater, as of yet with no sleeves. The small red plastic shopping bag with a hole in one side holds a compactly knit sock in various shades of teal.
The opening minutes of the gathering are like Christmas.
"There's a lot of beautiful things coming out of the bags in this room," said knitter Karen Johnson, of Lawrence.
Clark said her favorite time to knit is wintertime.
"On a snowy evening, I just think there's not much better than sitting down and knitting wool," she said.
But a July evening has its advantages. Namely, with the knitting social at Clark's house, the warm night and long-lasting daylight create a perfect backdrop for heading outside to visit the sheep themselves.
More like this story on Lawrence.com