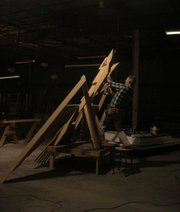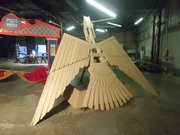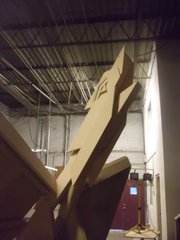 Some people are interested in history. Some are drawn to art.
To engage the rest, artist Gregory Thomas believes, publicly destroying a larger-than-life item in a giant ball of flames usually does the trick.
"People love a spectacle," Thomas says.
Thomas sees his plans for an event he's dubbed the Phoenix Festival as a way to engage that latter bunch in activities commemorating Quantrill's raid on Lawrence, which happened almost 150 years ago on Aug. 21, 1863.
He's drumming up community support, seeking permits and raising money to build a 20-foot-tall wooden sculpture of a phoenix, the majestic, mythological bird symbolizing rebirth, that will be torched in a public production involving a massive fire and live performers.
The burn is tentatively planned for Labor Day weekend in the Warehouse Arts District, where Thomas has been working on a model of the sculpture in the Seed Co. Studios artist collective space, 826 Pennsylvania St.
Thomas wants to complete the full-size sculpture before July's Final Friday event and have it on display for the month preceding its destruction. The idea, he says, is for viewers to take time to contemplate that — much like the city of Lawrence was — the beautiful, hard-to-build artwork is going to be destroyed without its spirit being extinguished.
"The project has a very limited life," he says. "It's about the experience."
Expected performers at the event include historical speakers, live musicians and dancers from Lawrence's Foxy by Proxy burlesque troupe, for which Thomas is technical director (and, occasionally, an on-stage performer who goes by the name Rexy Bodean).
Before landing in Lawrence about five years ago, Thomas lived in San Francisco, where he got involved with set design and participated in a performance art group that appeared at the Burning Man event (think tens of thousands of people, Nevada's Black Rock Desert, community, art, self-expression, self-reliance and lots and lots of things being lit on fire).
Between living in San Francisco and Lawrence, Thomas said, he returned to his hometown of Valley Forge, Penn., where a neighboring borough was doing something he was instantly smitten with: the Firebird Festival.
The annual event, centered on burning a huge wooden phoenix sculpture, takes place in Phoenixville, Penn., which Thomas described as a small, failed steel and iron town that has leveraged the arts to successfully reinvent itself. Phoenixville's event, which now draws about 16,000 people, inspired Thomas' idea for Lawrence.
He's launched a campaign called "The Phoenix Project: From Ashes to Immortality" on Indiegogo.com to raise money for construction materials, payment for performance artists and a stipend for himself to help pay the bills, as he's envisioning this art project as his full-time job for the summer.
As of last week, Thomas had received about $300 of his $8,000 goal. The Indiegogo campaign ends June 11. He says the show will go on regardless, though lack of funds would affect quality and how much he'll have to spend out-of-pocket to pull it off.
Note to firebugs: Donate $500 to the Indiegogo campaign and you get to be one of the people that light it.