My summer comfort food is a grilled pizza with a tiny handful of mozzarella, a drizzle of olive oil, and basil and tomatoes that were picked just in time to chop them up and toss them on top. The difficulty is, once you've had a pizza so fresh, off-season tomatoes and basil from a baggie just won't do.

Fortunately, while we're all waiting for those magical summer ingredients, there are plenty of seasonal spring fruits and vegetables that make delicious pizza, too. Featuring strawberries on one, and leeks and mushrooms on the other, here are a pair of spring pizzas to tide you over.
As with all pizza, the most important rule is to crank your oven temperature — all the way up to the 425-degree range — and fully preheat before you put the pizza in. It's also important to make sure the pizza is nicely crisped before you pull it out. I just keep an eye on it, rather than cooking for a set time, but about 10 minutes is a good starting point.
I hope you enjoy these spring pizzas.
Mushroom and Leek Tortilla Pizza
This pizza is easy to make on a weeknight, because the crust is a tortilla. I like to use Ezekiel brand sprouted grain tortillas because they crisp up well and have a nutty flavor.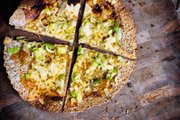 When using a tortilla for a crust, however, it's important to remember not to overload it with toppings or else it will end up soggy. If it looks sparse when you put it in the oven, it will be perfect. And because this pizza uses so few mushrooms, it's a great time to break out the fancy ones. We used oyster mushrooms, but morels would be incredible.
Ingredients(Makes 3 tortilla-sized pizzas)
1 leek (white and light green parts only)
Approximately 1/3 pound mushrooms
3 heavy tablespoons mango chutney
1 cup cheese (mozzarella or Gouda both work well)
3 tortillas
Olive oil
Salt and pepper
Chop and rinse the leek and mushrooms, and saute in about a tablespoon of olive oil for about 5 minutes, or until any liquid is mostly gone. Meanwhile, scrape a tablespoon of chutney over each tortilla, and grate a scant cup of cheese.
When the leek and mushroom mixture is done, spoon it over the chutney. Sprinkle the cheese on top, and bake in a 425-degree oven until the edges of the tortilla are brown and toasty.
Strawberry, Bacon and Balsamic Onion Pizza
This pizza needs a proper crust to stand up to the liquid in the strawberries. I typically use Mark Bittman's pizza dough recipe (available at markbittman.com), but in a pinch, I sometimes pick up a ball of dough to-go from 715 Restaurant. If you want to make the crust pretty, knead in a handful of chopped herbs before you roll it out.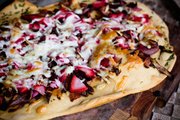 Ingredients
1/2 onion, sliced
1 tablespoon balsamic vinegar
4-5 slices of cooked bacon, chopped into bits
1/2 pound strawberries, sliced
A small handful of chopped herbs (basil is fine; thyme would be nice, too)
1 cup mozzarella cheese
1 ball of pizza dough rolled out into a crust
Olive oil
Salt and pepper
Toss the sliced onion in a pan with about a tablespoon of olive oil and saute until the onions start to soften. Add the balsamic vinegar, toss to coat, and continue cooking the onions down until the liquid is gone.
Brush the crust with olive oil, and lay it out on a bake sheet. Layer the onions, bacon and strawberries, and top them off with the mozzarella cheese. Reserving a small amount, sprinkle most of the chopped herbs over the top, and bake at 425 degrees until the crust is crisp and the cheese begins to brown. Toss the remaining chopped herbs over the pizza before serving.
More like this story on Lawrence.com