Lawrence summers can be absolutely sweltering.
As the thermometer soars to dizzying heights, I often find myself staggering to the pool for temporary relief.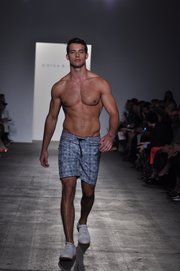 While you should by no means treat a pool visit like a fashion show, I think there are some basic tips that can not only help you look fashionable but also fit.
Guys don't have a lot of options with swimwear. We pretty much stick to trunks (or for those few brave souls, Speedos). There are tons of options for swim trunks, but I don't think a guy can go wrong with a simple pair of slim(mer)-fitting, above-the-knee shorts.
I know, I know — it's basically scripture to buy a giant pair of board shorts that plunge about a foot past your knee. So many people do it, and it has become the norm. But it hasn't always been this way.
Until the 1990s, men tended to don shorter, slimmer-fitting shorts that are, quite frankly, more flattering to the male figure (especially for those of you lucky enough to have a trim physique). Slim, shorter trunks are not only classic but also more practical.
No matter how much you hit the gym, a huge pair of board shorts adds pounds. Besides weighing down your look, baggy shorts also hold water like a sponge, which can make a simple swim feel like you're dragging around weights.
And for those of us carrying a little extra weight from the winter, make sure to get trunks with a tie waist. No matter how skinny you are, elastic waistbands will pinch your mid-section, thus giving an illusion of pudge even if there isn't any there.
There are four basic rules to follow for a classic, flattering pair of swim trunks.
First, stay simple — whether you're going for a solid color or a crazy pattern, stick to a single fabric with minimal pockets (you'll often find a pair with a small cargo pocket on one side).
Second, treat your shorts like you would a pair of jeans. Find a cut that fits slim, but doesn't bind, and that hits above your knees. Trust me, you'll not only move better in and out of the water but you'll also look trimmer and more athletic.
Third, always opt for a natural, tied waistband. These are most often labeled by waist size rather than "small," "medium" or "large." Such a waistband will sit snugly on your waist but won't pinch and bind.
Fourth, be confident. You don't have to have a six-pack to look good in a swimsuit, and buying one that fits right will go a long way in tying together your look.
As always, go with what you like and what fits into your sense of fashion. But if you're ready to change up on your swimsuit, I can almost guarantee that you'll like how you look and feel in a classic, slim-fitting, above-the-knee pair of swim trunks. You might even get a few compliments.
More like this story on Lawrence.com