Photo Gallery
25th Annual Outdoor Downtown Sculpture Exhibition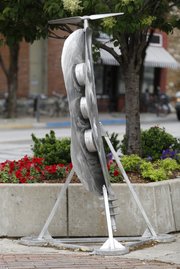 If you go
The opening reception and tour for the 25th Annual Downtown Outdoor Sculpture Exhibition will begin at 5:30 p.m. Saturday at the Lawrence Arts Center, 940 New Hampshire St. Here are the eight sculptures on display, along with their artist and location, in this year's exhibition:
• "Passage" by Jon Havener, Sixth and Massachusetts streets
• "Laminations I" by Jacob Burmood, Seventh and Massachusetts streets
• "Tetramonobelos" by Darin White, Eighth and Massachusetts streets
• "Forseedable Future" by Steve Janesko, Ninth and Massachusetts streets
• An untitled piece by Brett Allen, Ninth and Vermont streets
• "Cyclonic Nature" by David Lieffring, 800 block of New Hampshire Street
• "Mirage" by Alan Detrich, 11th and New Hampshire streets
• "Peace Crane" by Denise DiPiazzo, N. Park and Massachusetts streets
After 5-year-old Caden White died from cancer in 2009, his father, Darin, created a sculpture in his memory. The Lawrence man is now sharing that highly personal piece of art with the community.
White is one of eight local artists taking part in this year's Downtown Outdoor Sculpture Exhibition, which is celebrating its 25th anniversary in 2013. The Lawrence Cultural Arts Commission decided to mark that milestone by only accepting entries from within a 15-mile radius of Lawrence and honoring the event's 84-year-old founder, James Patti, who brought the exhibition to his hometown after reading about another city doing one in a sculpting magazine. A free, public reception will be held, rain or shine, at 5:30 p.m. Saturday, June 15, at the Lawrence Arts Center, 940 New Hampshire St. It will be followed by a walking tour.
Assistant City Manager Diane Stoddard says that allowing only local artists generated excitement for this year's event and that organizers received the same number of entrants — about 25-30 — they normally do.
"I really think it did create a lot of enthusiasm about the local community and showcasing local talent," she says.
One sculpture almost wasn't on display in time for the reception. The piece "Laminations I" by Jacob Burmood in front of the Eldridge Hotel was vandalized.
"We're trying to encourage the public to be respectful of the art: to not climb on it, pull it, bend it or other things that sometimes happen," Stoddard says.
The eight sculptures were chosen by juror Porter Arneill, the public art administrator for Kansas City, Mo. They are made of everything from fiberglass to steel and comment on such topics as agribusiness, feelings of peace and the idea of play as ritual.
Jon Havener says his sculpture, "Passage," is a figure with a doorway at the top that allows energy to pass through. It explores the fluidity and action of growing organic forms.
"It's a static object, but I wanted it to be very gestural and very visually active — that's sort of been the hallmark of what I've done over the years," he says.
Havener, who teaches jewelry and metalsmithing in the art department at Kansas University, also makes wearable art and vessels, but says sculpting is a particularly freeing form of art.
"It's not really bounded by anything. When you work on the body, there's certain constraints you have. When you make a piece of sculpture, it challenges you in all aspects of the work," he says. "I enjoy the creative challenge of interacting with this three-dimensional entity and getting it all to come together and work as a complete object."
White's sculpture, meanwhile, looks like a cross between the Washington Monument and a Louisville Slugger. Made from hackberry wood, "Tetramonobelos" — meaning a three-sided work (tetrahedron) carved from a single piece (monolithic) with a nail-pointed pillar (obelisk) — is White's contemporary take on a memorial. It's part of a collection he is producing called the Healing Series, which he says is about "thoughts and ideas surrounding death, life and love and the very real process of recovering."
"The bottom line of it is, I believe art is healing: the process of making it, thinking about the work, the ideas behind it — the whole process," the 40-year-old says. "This is a way of being able to memorialize my son and, at the same time, begin to heal."
White, an independent curator, art and materials consultant and visual space designer, operates the local artists' collective b.a.l.m. — the beauty, art and life movement — with his wife, Shannon. The couple have two other kids, 12 and 3.
He says it's impossible for artists not to use the trials and tribulations of their own lives in their work.
"Part of the process of making art is living, and as you are living the things that inspire you or affect you or come into your life at that time obviously go into the art," he says