Ready or not, swimsuit season is here!
I've always shied away from swimsuits because trying on swimwear at the beginning of spring and summer (when you're pasty white like I always am following winter) is not my idea of fun. Lately, I've had a change of heart about swimwear because there are so many different styles that have caught my eye.
The retro style is something I really gravitate toward because my swimsuit style motto is the more coverage, the better. There are endless designs out there to fit your body type, which makes the hunt for a perfect swimsuit that much easier.
One-piece wonder
One-piece swimsuits are really making a comeback this season with a much more fashion-forward feel to them.
It used to be that one-pieces were strictly for curvy figures, but now I see all body types trying out the silhouette.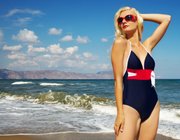 Patterns are endless for this type of swimsuit. Anything from bright colorblocking to eye-catching tropical prints have been spotted on this suit style.
I also love an interesting back detail like multiple horizontal straps, or even an open back to add a fun fashion element to the style.
As far as necklines, I prefer a halter because I have wide shoulders, and the halter strap tends to take away from that.
But if you have narrow shoulders, a strapless style would be your best bet. Most likely the swimsuit will have removable straps so you can try both ways.
The two-piece
Two-piece styles are a little more complicated because you can mix and match just about any top and bottom.
For many years, I just picked the two-piece swimsuit that looked good on the hanger, but I never really paid attention to what would fit the best for my body type.
The standard swimsuit tops are bandeau tops, triangle tops and halter tops. The standard bottoms are tie side bottoms, tab side bottoms and brief bottoms. I prefer a bandeau top with a removable halter strap and either a tab side bottom or a brief bottom because they give me the right amount of coverage and the best fit.
You can now find suits that you can mix and match instead of buying a top and bottom with matching prints or colors. This makes it easier for you to mix and match the fits as well as the prints and colors so it's customized to your liking.
If you're not used to mixing, then try a bright, solid-colored top with a simple black bottom. Once you're acclimated to the mismatched style, you can go for mixing prints. If I mix prints, then I make sure to stick with the same color scheme so I can match in that way. One more tip, and probably the most important, is to make sure you choose the fit that makes you feel the most comfortable.
Classic cover-ups
A swim cover-up is essential to your swimwear style.
You can find a lightweight tunic or cover-up just about anywhere in an array of different styles.
There are sheer fabrics, printed fabrics, short sleeve, long sleeve, sleeveless — and the list goes on for swim cover-ups. I like to try to match my cover-up and swimsuit as much as possible. For example, if you go for a mix-and-match printed top and bottom, then choose a solid-colored cover-up in the same color scheme to balance out the look.
You can find a cute cover-up for affordable prices as Target, or if you want to go the designer route, try Shopbop.com for an assortment of fabulous cover-ups.
— Emily Kennedy is one-half of the stylish duo behind The Fashion Column blog she shares with her twin sister, Elizabeth. Emily can be reached at fashioncolumnblog@gmail.com.