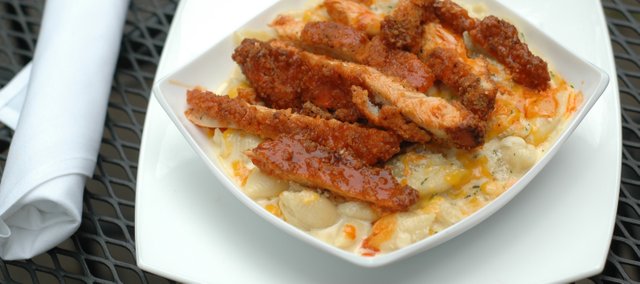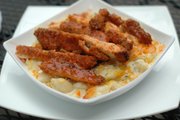 Cheers to the American college town — a land where restaurants make homemade big-shell mac 'n' cheese, sprinkle it with herbed bread crumbs, pile spicy buffalo fried chicken tenders on top of it, let the hot sauce swirl into each forkful of hot pasta and melty cheese, then name the meal after the man who, according to Kansas Athletics, has made their favorite team the winningest program in Division I for the last six seasons.
23rd Street Brewery staffers say that while Kansas University men's basketball coach Bill Self didn't necessarily create his namesake dish, he has been known to order it. Fittingly, when it comes to things on a plate, the Bill Self is easily one of Lawrence's winningest combinations.
Where to get it: 23rd Street Brewery, 3512 Clinton Parkway
What you'll pay: $15.99
Try it with: 23rd Street's Bitter Professor IPA. Chase the intense combo with that cool, creamy little mint that comes with the bill.
Also on the menu: Naked Nachos (chips come on the side), 23rd Street Meatloaf (smothered in gravy), brats, pizzas, calzones, the Charlie Weis (mac 'n' cheese with chili and Fritos), the Manly Stanley (double burger with cheese, bacon, egg, fried pickles, onion ring and wing sauce), and miscellaneous other dishes named after KU sports figures.
— Off The Beaten Plate highlights some of the more exotic, oddly named or inventively concocted (for better or worse) dishes from local menus. Know of an offbeat menu item we should check out? Email food and features reporter Sara Shepherd at sshepherd@ljworld.com. Tweet her at Twitter.com/KCSSara.