Sometimes heartbreak can launch your career.
At least for Alejandro Rose-Garcia, also known as Shakey Graves, the end of his first middle school romance inspired enough vengeance to make him pick up a guitar and find his place as a musician.
"She went and cheated on me in Mexico," Graves said. "I don't even know how you do that when you are 12 or 13, but she did. She pulled it off and she really liked guitar players."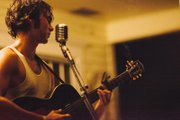 If you go
Shakey Graves will be performing along with Marmalakes and Wild Child at 9 p.m. Saturday at the Bottleneck, 737 New Hampshire St.
What had started out as a quest to prove his ex-girlfriend made a mistake turned into a personal connection to creating music. Graves has been invested in performing his entire life, at first, keeping music as his hobby and pursuing acting as a career. After moving out to Hollywood to audition for role after role, he noticed his skill set wasn't as impressive as he would have liked.
"I knew how to be on a set and eat catering and act and be on a stage and memorize lines, but what was I going to do with that? Get, like, a kitchen job? I had no resumé," he said.
But his acting stint was not in vain.
"Acting was what had got me stranded in California, and me being stranded was what really brought the emotion and the impetus for me to play all the (darn) time," Graves said. "I had tons of free time while I was waiting to get cast. I just wrote music about how (bad) it could be to be in world."
In the end, he had to prioritize his love for one art over the other, choosing to leave Hollywood to develop his one-man band act. Graves still acts (he'll be in "Sin City 2" this October), and will often go to a set for a couple of weeks at a time to play a character, but this heavily weighted music lifestyle is a better fit for him, he said.
"I just wasn't willing to stay in California and sell my body," Graves said. "That mindset of just letting go was what allowed everything to start."
Now he is described by the New York Times as "making the one-man band act look effortless," something Graves said is the result of how organic and intuitive the music feels when he performs. His handmade suitcase kick drum, built by a crafty friend of his to make his act easily transportable, is an addition he made two years ago (the year before that he played a kick drum and hi-hat), rounding out his entire act.
"Almost never do I want to be in a bar and hear a guy playing the acoustic guitar," Graves said. "I mean, even if I do, I won't pay attention to what he is saying unless I am there on purpose to be attentive. I was like, 'How am I going to get this music that I actually care about performing and think is good across?'"
Graves has gone from a featured act at a train stop in Austin at the 2011 Railroad Revival Tour with bands like Mumford and Sons, Old Medicine Crow and Edward Sharpe and the Magnetic Zeros, to opening directly for Old Medicine Crow on certain stops in this tour.
Shakey Graves will be performing what he calls "electric troubadour music" at 9 p.m. Saturday at the Bottleneck, along with Wild Child and Marmalakes.
More like this story on Lawrence.com