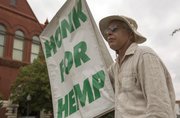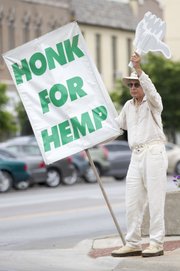 If you've lived in Lawrence very long, you probably know someone who has been given the thumb.
Nearly every Sunday from noon to 1 p.m. and some Saturdays from 9 p.m. to 10 p.m., you can find what has become known as the Honk for Hemp guy at a downtown street corner.
Honk your horn in support of the legalization of marijuana, and the guy will flash you a handheld sign showing an upturned thumb. (Yes, he could just use his actual thumb, but this one is much larger.)
These days, the Honk for Hemp guy is Lawrence resident Thomas Trower, who credits longtime activist Mark Creamer with getting the project going in the early 1990s. Creamer got
lots of people's attention in lots of ways, but in 1989 he got national attention for lighting up a marijuana joint in the lobby of the Lawrence Police Department building. But Creamer moved away from Lawrence about five years ago — to Colorado, where he can legally use marijuana for a medical condition.
That's one of the issues the Honk for Hemp movement supports. But it also wants laws loosened that would allow marijuana to be grown for hemp production, and the group supports marijuana for recreational use, according to its website.
— Chad Lawhorn clawhorn@ljworld.com
Runners Up
Leslie Soden
Jeremy Farmer
More like this story on Lawrence.com