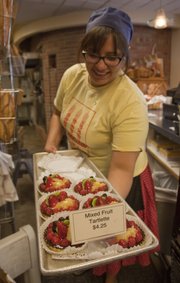 904 Vermont St. • 785-841-5553
A glance inside WheatFields Bakery Cafe's glass display case, full of colorful tarts, cheesecakes and truffles, reveals why WheatFields was voted both Lawrence's best bakery and best place for dessert.
General manager Amy Savoie said the desserts are all homemade daily and there's something in the restaurant to satisfy any sweet tooth.
However, it's delicacies like the chocolate mousse cake that really highlight the restaurant's dessert superiority.
"You don't find this everywhere," Savoie said of the chocolate mousse cake, which consists of a thin layer of cake, glazed with a raspberry spread, covered with 2 inches of chocolate mousse and finished off with chocolate pirouettes. It somehow manages to taste rich and light at the same time. The mousse dissolves on the tongue, leaving the texture of the cake and the remaining chocolate.
But it's not just sweets that make WheatFields stand out. Its 25-ton brick wood-fire oven, which produces its signature artisan-style breads and other baked goods, is based on a style from Spain and was built from the ground up inside WheatFields. It gives WheatFields bread its distinct crunchy crust.
"There's probably only a dozen or so in the country," Savoie said.
The bakery produces several types of pastries, cookies and 15 to 20 types of artisan bread, all handmade with limited preservatives.
Those different styles of bread have made WheatFields popular across the state. Savoie said a grocery store and a restaurant in Manhattan both buy bread from WheatFields, as do two places in Topeka. She said visitors come from around the state to eat at WheatFields.
"That's always a good feeling," Savoie said. "People from Wichita have asked us when we're going to open a WheatFields there."
Locally, WheatFields bread is available at Hy-Vee, The Merc and Dillons stores. KU Dining Services contracted with WheatFields last year to sell bread on campus.
But going to WheatFields itself for its bread, cakes and pastries has its advantages. It's a nice starting point for a downtown stroll, something you may want to try after devouring the bakery's products.
— Adam Strunk and Luke Ranker, astrunk@ljworld.com; lranker@ljworld.com
Runners Up