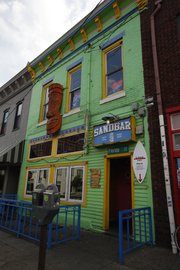 17 E 8th St. • 785-842-0111
Usually Lawrence residents aren't looking to get caught in a storm, but the indoor hurricane at the Sandbar keeps customers coming back.
Aisha Kitt, 23, goes to the Sandbar four or fives times a week because she loves the "homey" feel the small bar gives.
"The bartenders are really kind and generous to customers ... there aren't any bad times there," she said.
The Sandbar is a tropical oasis that serves fruity drinks with toy accessories, features dancing mermaids and plays a jukebox highlighted by Jimmy Buffett tracks, among other music from the past several decades.
"It's just a fun environment; it always feels like there's a party going on," customer Berenice Weisel said.
Every night at 10 p.m. the infamous indoor hurricane, complete with wind and rain, hits Lawrence. If it's your birthday or you're out celebrating for a bachelorette party, there's a good chance you'll get to put on a mermaid apron and dance on the bar. Miss the 10 p.m. show? For $20, you can buy another indoor hurricane at whatever time of night you want.
"I really like the fact that you can dance on pretty much anything – the bars, the seats by the wall," Kitt said.
Drink specials every night keep the bar busy, especially on Thursday nights, when there are $2.50 tropical drinks like the Pink Flamingo, a pink lemonade and vodka drink that comes with a flamingo toy, and the Shark Attack, a cherry limeade drink that comes with a toy shark filled with cherry-flavored juice.
Kitt said sometimes there's a line outside to get into the Sandbar, but it's worth it.
"You've gotta wait for the good things," Kitt said.
— by Meagan Thomas, mthomas@ljworld.com
Runners Up