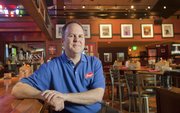 2429 Iowa St. • 785-856-2550
Barbecue is supposed to be spicy. No, it's supposed to be sweet. Barbecue is supposed to be pork. No, it's supposed to be beef.
Anybody who has watched those amped- up barbecue reality shows (yes, we really wrote that phrase) knows how the rest of the argument goes, and how it ends. (Usually,
it ends with a turkey leg being used as a club, or maybe that is just what we are rooting for.)
Well, Doug Holiday, owner of Bigg's Barbecue, at 2429 Iowa St., has a different idea about what barbecue is supposed to be: fun.
That's why you'll find items like chocolate-covered bacon on his menu, and once there was even something called barbecued sushi rolls.
But no, barbecued sushi rolls are probably not the reason Bigg's was voted best barbecue in town in Best of Lawrence 2013.
"I would hope that it is just working hard at it every day and taking care of our customers," says Holiday, who founded the restaurant in 2004.
And taking it slow. Both the pulled pork and brisket that are mainstays of his menu take about 14 hours to cook.
"I can tell you that nothing is done in a hurry in the barbecue business," Holiday said.
Maybe that is why it is tough for him to single out just one item from his Bigg's menu as a speciality. But he said if he were forced to, he would say the restaurant's baby back ribs are his favorite.
But that's only if he is forced to choose — like if someone is holding a turkey leg to his head.
—Chad Lawhorn, clawhorn@ljworld.com
Runners Up
Biemer's BBQ
Gran-Daddy's Q