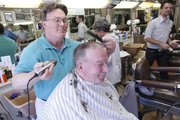 842 1/2 Massachusetts St. • 785-842-9425
For many longtime Amyx Barber Shop customers, the downtown Lawrence landmark is as much a town square as it is a place to get their hair cut, says Mike Amyx, the shop's third- generation proprietor. In his shop, the past meets the present and conversation runs around the clock across any topic that comes to mind, from sports to politics.
The building has been a working barber shop since at least 1908, says Amyx, who also is a Lawrence city commissioner and former mayor. He took over the family business from his father and grandfather, as anyone can see from the old-fashioned barber pole out front and antique interior.
But the store isn't as old-fashioned as it looks. "We've got a really good mix of all ages," Amyx says of his staff and clientele.
Young barbers keep the store hip, Amyx says, cutting the latest hairstyles or simple crew cuts, as needed, for a mixed crowd that includes old-timers and college kids discovering the shop anew each year.
Over all those years, Amyx's family has accumulated an impressive array of Kansas University sports memorabilia, which customers can peruse while in the shop. The jewel of the collection? A postcard from Kansas basketball coach Forrest "Phog" Allen, sent to Amyx's father from Helsinki in 1952 while the KU legend accompanied several Kansas players to that year's Olympic team.
Sixty years later, the shop is still full of KU fans and accumulating local history.
"It's a fun thing," Amyx says. "But it's also a privilege because we've had a lot of people who have stuck with us over the years."
Americans, in other words, are catching up with Zen Zero.
— Ian Cummings, icummings@ljworld.com
Runners Up
Downtown Barber
Rex's Stadium Barber Shop