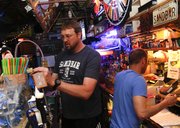 17 E 8th St. • 785-842-0111
There are bars where you could be a regular and never get to know your bartender. That's probably not the case at Sandbar, where — if you've been in the place at any point in the past 18 years or so — there's a good chance the guy making your drinks was David Johanning.
At 6-foot-10 (Johanning played center on the KU basketball team from 1990 to 1992), not only would he have cut a memorable figure, he was probably putting on a show — complete with "Jaws" theme music — while pouring your Shark Attack and, in general, having a great time.
Especially at a small, themed bar like Sandbar, Johanning said, "you're not just serving drinks, you're part of the experience."
Johanning became a managing
partner for Sandbar about six years ago and now handles business tasks during the day while continuing to tend bar three or more nights a week. He and other Sandbar-tenders have regularly been among top vote- getters in Best of Lawrence and University Daily Kansan Top of the Hill contests.
It's all about interacting with the customers and having a good time, said Johanning, who added that the energy from a constant influx of new people turning 21 in this college town was one of the best things about his job.
"You're on stage," he said. "Everyone's looking for you to have fun, and if you're having fun people will have fun, too."
—Sara Shepherd, sshepherd@ljworld.com
Runners Up
Chris Neverve
Frank Dorsey