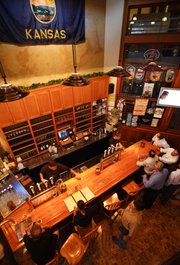 636 Massachusetts St. • 785-843-4555
The hustle, the bustle, the gourmet pub food, the old stone walls, the patio on a sunny day, pint night (every Monday!). And, oh yes, the craft-tastic beer you can't get anywhere else in the world.
What's not to love about Free State Brewery?
In 1989, Free State Brewing Co. became the first legal brewery in Kansas in more than a century, and the brewpub has been a favorite Lawrence destination ever since. Its Massachusetts Street headquarters aims to be, in Free State's words, "a haven for beer lovers, where good beer and good food can inspire lively conversations and memorable experiences." Free State is famous for its black bean quesadillas, cheddar ale soup, fish and chips (Free State beer-battered, of course) and daily specials.
The brewery bottles several of its most popular beers, but for most of the experimental kinds (recent additions include Hoptic Nerve IPA, Eutiner Lager and Dirty Kanza Rye PA) hop- heads have to belly up to the bar — and they do, in droves.
— Sara Shepherd, sshepherd@ljworld.com
Runners Up
On The Rocks
The Burger Stand at the Casbah