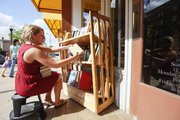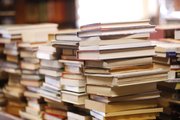 708 Massachusetts St. • 785-749-4643
Speaking in hushed tones in the back corner of the Dusty Bookshelf bookstore, Shannon Jones says she can't take too much credit for the shop's reputation.
"We are great because our customers are great," said Jones, the store's manager. Nearly all the books sold at the Dusty Bookshelf are used. That means the shop depends on what its customers bring in through the door. And they rarely disappoint, Jones said.
The shop, which opened in 1996, usually has about 60,000 titles to offer, she said, and they change every day. That's part of the charm for customers: You never know what gem might have turned up since yesterday.
"We put new stuff out every single day,"
Jones said, "and that kind of helps with the treasure-hunt feel. You just never know what you're going to find in here."
One thing you might find is a cat named Alice, who's lived in the store now for 14 years — "longer than any of us," Jones says.
If you don't find a book you're looking for, the store will notify you when it finds its way in the door. And if you help out by bringing in some old books of your own, you might be able to walk out with some new treasures.
"No cash has to exchange hands, really," Jones said. "You can bring in a bag of books and leave with a bag of books."
—Matt Erickson merickson@ljworld.com
Runners Up
The Raven
Lawrence Public Library
More like this story on Lawrence.com