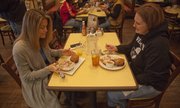 2540 Iowa St. Suite D • 785-856-3447
Breakfast is the most important meal of the day. And First Watch takes that saying seriously. You open the menu and see items like biscuits and turkey sausage gravy with eggs, the "Bacado" (that's bacon and avocado) and "Swisshroom" (Swiss cheese and mushroom) omelets, and the Farmhouse Chicken Hash. And that's just the first page of food. Then your coffee arrives, but it isn't
a mere cup, it's a full pot. Want something you don't see on the menu?
"If you want it, and we have the ability to make it, we will," Brandon Webb, manager of First Watch, said.
First Watch makes more than breakfast, but it's clear that the first (or second, or third) meal of the day is its specialty. The restaurant's usually packed, but it doesn't hinder customers from
getting their fill of good breakfast foods.
"We have the best food and the best service. We bend over backwards for our guests," Webb
said. "We have a ton of regulars that come in every day of the week to get our pancakes."
—Alma Bahman, abahman@ljworld.com
Runners Up