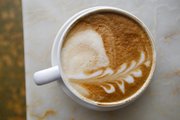 638 Massachusetts St. • 785-832-2233
Every coffee drinker has his or her favorite joint, whether it's for the ambiance or just a great cup of Joe. But usually, it's for the Joe. La Prima Tazza does coffee right: with hot (and cold) brews and beans in bulk.
"We're the first coffee shop in Lawrence, opening in 1990," Sarah Richardson, manager of La Prima Tazza, said. "When you're open that long, you have time to get it right."
The shop is small, so seating is sparing, but it's bustling with a variety of colorful coffee drinkers, from hard-studying students to moms reading with their kids. The décor is just as cozy, with dark
wood, gentle lighting and a black and white tiled floor, evoking a European cafe vibe.
Richardson said La Prima Tazza's most-complimented coffee is its espresso. "People from Italy and France, who are used to really fine espresso, like it a lot," Richardson said.
The shop's generic Styrofoam to-go cups, well-loved for-here mugs and the sign offering 20 percent off for using a personal tumbler reinforce that what matters is a delicious cup of coffee. It's the goodness of caffeine culture without the pretense.
—Alma Bahman, abahman@ljworld.com
Runners Up
Starbucks
Z's Divine Espresso