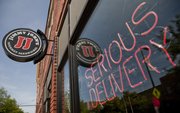 922 Massachusetts St. • 785-841-0011 1720 W 23rd St. • 785-838-3737
601 Kasold Drive • 785-331-2222 1200 oread Ave. • 785-842-4500
When it comes to food delivery in Lawrence, the words "freaky fast" resonate with hungry customers — especially late at night.
That's at least part of the reason why Jimmy John's Gourmet Sandwiches is a favorite delivery chain in Lawrence. But just how fast is freaky fast?
"Under 30 seconds," says Dylan Anderson, a store manager at the Jimmy John's Massachussetts Street location, of the time it takes to make any one of their sub sandwiches.
The delivery doesn't take much longer. But the sandwich shop also grows crowded at certain hours of the day, especially around 2 a.m., when bars close and partygoers need sustanance before calling it a night.
On the walls, tongue-in-cheek signs, including one that warns, "Hippies use side door," distract patrons from their growling bellies.
"A lot of people say they like our music, too," Anderson says. "We play the classic rock station, or sometimes '80s new wave. It's
just a fun place to go to." Along with the standard cold cuts and toppings, the
sandwich shop offers low-carb lettuce wraps and vegetarian options. And for those who like a cookie with their meal, Jimmy John's has recently added white chocolate, dark chocolate and milk chocolate to their chocolate chip cookie varieties.
You can also order online or arrange for catering at any of the chain's four Lawrence locations.
—Chad Lawhorn clawhorn@ljworld.com
Runners Up