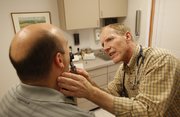 Lawrence Family Medicine & Obstetrics, 1220 Biltmore Drive • 785-331-1700
Rod Barnes says he tries to care for his patients the way he would a member of his family. And a few years ago, when he needed some care of his own, that's just what they did for him.
Since Barnes took off two years as a physician at Lawrence Family Medicine and Obstetrics while battling leukemia, he's been touched by how many of his patients, and others around Lawrence, have reached out to him, he said.
"It's just like having an extended family," Barnes says. "I can't even begin to recite all the kind words and the support I've received."
After receiving a bone marrow transplant, Barnes is well now, he says. He returned to work in January 2012. Though his clinic has changed names and forms a few times, he's worked there since 1978. He's delivered more than 3,000 babies during that time, which he notes is more people than his hometown of Council Grove has.
There's a reason his patients feel close to him, says nurse Joni Lawrence, who has worked with Barnes for 33 years. He's a great listener, she said, and his friendly demeanor shows how much he cares.
"He will make you feel like you are the only person in the world he has to take care of," Lawrence said.
Those patients come back often enough that he says his schedule is full every day, even though his weakened immune system means he no longer delivers babies or sees patients who are too sick. And he says he's just where he wants to be.
"Most physicians move at least three times before they actually sink some roots," Barnes said. "This is the first place I landed after my residency, and no regrets."
— Matt Erickson, merickson@ljworld.com
Runners Up
Loree Cordova
Carla and Brad Phipps