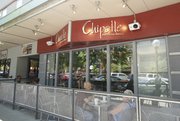 911 Massachusetts St. • 785-843-8800 4000 W 6th St. • 785-843-1510
Among Lawrence's fast food options, many favor Chipotle Mexican Grill for the wide variety of options available in one familiar, easy-to-eat form. Chipotle made its name on its burritos and the hefty bang for your buck promised by a quick meal that weighs in at about a pound and a half for $6.25.
Chipotle is a simple, no-frills operation with stainless steel furnishings lending the restaurant an industrial feel and a simple menu smoothing the way for a line of customers. But the menu's basic array of burritos, burrito bowls, tacos and salads allows for thousands of possibilities as the customer has three types of tortillas to choose from — soft corn, soft flour and crispy corn shells; four meats, including barbacoa and carnitas;
specialty toppings such as roasted chili-corn salsa and tomatillo-green chili salsa; and of course the basics: guacamole, sour cream, cheese and lettuce.
The formula of hot, spicy Mexican food prepared quickly and delivered in large portions has always done well in towns — like Lawrence — with a young population, says Chris Arnold, a Chipotle spokesman.
"We do very well in college towns," Arnold said. "In fact, our first restaurant was adjacent to the University of Denver campus. Our food ethic really resonates with students."
Chipotle has two stores in Lawrence, downtown and on West Sixth Street.
— Ian Cummings, icummings@ljworld.com
Runners Up