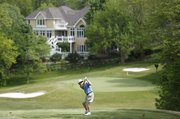 1809 Crossgate Drive • 785-842-7767
The first time his father, Jerry, took him to play a round of golf at Alvamar Country Club a few decades ago, it didn't take young Eric Magnuson long to learn that golf blends sporting competition with a nature hike.
"I saw a deer on No. 3 at the country club and I thought it was the most amazing thing in the world," the younger Magnuson said.
After working as a golf professional in western Kansas, southern California, Minnesota, Lawrence Country Club and in St. Joseph, Mo., Eric Magnuson has come home to Alvamar, where he now serves as head pro of the 36-hole facility that includes two full driving ranges and a short-game training facility.
Other than zoysia fairways, the two golf courses on the property don't have a great deal in common, so there is a little something for everybody. The championship course, open to the public, is noted for its long par-4 holes, and the greens tend not to break as much as the eye suggests. The member course has tighter fairways and is dotted with dogleg holes, which in many cases take the driver out of the hands of big hitters. The greens tend to break more than a first read might indicate.
"We have two great golf courses," Magnuson said. "We need to pair that with great service."
Paul Hooser, an award-winning instructor and club-fitter who worked at Leawood South for 19 years, was hired by Alvamar to become lead instructor. Magnuson and two assistant professionals, Ryan Davis and Tyler Henderson, also are available to give lessons.
"We're able to offer anything and everything people want at a public or a private facility or even at a discount store," Magnuson said about the club's merchandising and club-fitting. "We'll be the full-service, one-stop shop golf course in Lawrence and the surrounding areas."
—Tom Keegan, tkeegan@ljworld.com
Runners Up
Eagle Bend Golf Course
Lawrence Country Club
More like this story on Lawrence.com