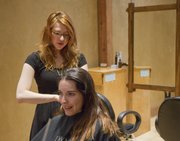 733 Massachusetts St. • 785-843-0044
At Salon Di Marco and Day Spa, it's all about the hair.
Although the salon offers other services, including massages, nails, waxes and facials, its hair stylists are experts in their field and are hired specifically to do hair. The full-service salon offers haircuts, styles, updos, coloring, perms and deep conditioning.
The salon also has a strong support team to take care of salon and administrative tasks, which allows the professionals to concentrate on customers rather than worry about cleaning up their work station.
"The client has 100 percent of their focus at all times," owner Carlos Castillo said.
Castillo and his wife, Jacquelyn, run the business with the customers' convenience in mind. Salon Di Marco is open seven days a week, six days until 8 p.m. and on Sundays until 6 p.m. Its hours allow working customers to make an appointment to fit their schedules. The salon also offers online booking for a quick "click and confirm" scheduling experience.
Castillo said the salon's client base has mainly grown based on customer referrals.
"You will come to our salon if your friend came home and ranted and raved about our services," Castillo said. "That's the best compliment we can get from our clients."
—Meagan Thomas, mthomas@ljworld.com
Runners Up
Green Room Salon
Static Hair Salon